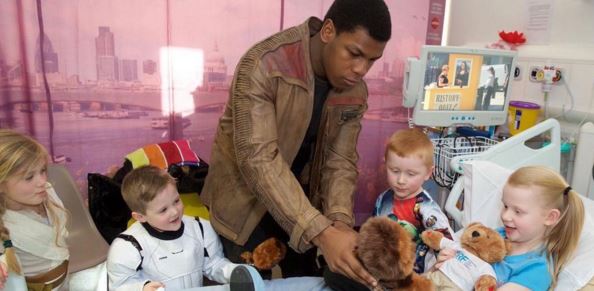 Star Wars star John Boyega was quite heroic as Finn in The Force Awakens, but in real life, Boyega is proving that he's even more of a hero. The 23-year-old actor visited children at The Royal London Hospital in London on behalf of the charity Rays of Sunshine. Boyega spent time with all of the kids in character as Finn and gave them newest toys from The Force Awakens.
As mentioned above, Boyega was able to set up his visit through Rays of Sunshine, but it was another hero, a five-year-old boy named Daniel, that really helped make it possible. Daniel, who was diagnosed with a brain tumor, used his wish to meet Boyega, but he didn't want to be the only one that got the chance to see him. Instead, Daniel wanted to share his wish so that as many children as possible could meet the Star Wars actor.
"This little stormtrooper Daniel had a wonderful wish after seeing The Force Awakens," Boyega wrote in a post on Instagram. "Daniel currently lives with a brain tumor and rather than having Finn to himself he wanted Finn to meet the kids at the Royal London hospital and give them some toys. I stayed in character while I was with this brave boy asking him what a car was. He taught Finn about everything earth-related!"
In another post, Boyega shared an encounter he had with a young female fan at the hospital, who was dressed as Daisy Ridley's character, Rey. When Boyega explained that Finn didn't know where Rey was because he couldn't remember anything after he was beaten in a lightsaber duel by Kylo Ren, the little girl told him that he'd be his Rey for today.
Check out Boyega's Instagram posts below to see him interacting with the young Star Wars fans. I can promise that it will be one of the best things you see today.
[Photos via John Boyega's Official Instagram]