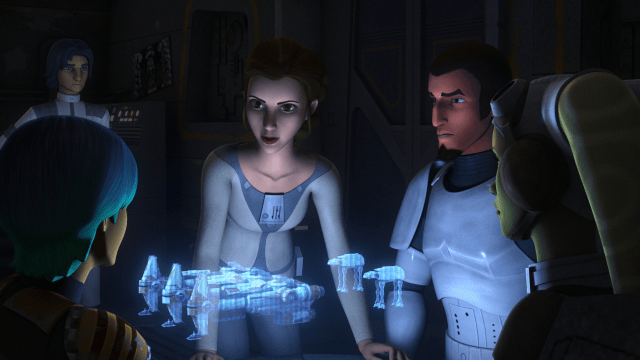 Excitement surrounding the Star Wars universe is at an all-time high (thanks to the success and reception of The Force Awakens), and Disney XD and Lucasfilm are capitalizing on this excitement with the release of a trailer for the mid-season return of Star Wars Rebels.
I've been a huge fan of Rebels since its series premiere, and the show has capitalized perfectly on the foundation laid by its predecessor, Star Wars: The Clone Wars. While The Clone Wars took a few seasons to really find its footing, Rebels has been delivering quality episodes from the outset, and its additions to the Star Wars canon has been very welcome (and well-received) in the post-Disney acquisition time in which we now live. The first season introduced us to the main cast of the series (while sprinkling in established entities such as C-3PO and Lando Calrissian), and the second season has gone full-speed ahead with integrating the series into the universe as a whole after the introductions of Darth Vader and his former apprentice Ahsoka Tano into the fold at the end of season one.
The trailer for the show's return includes some huge moments, including the following:
YODA! It looks as though Ezra is going to be communing with the Jedi Master through the Force, but exactly how is still unknown.
Darth Vader looks to b a bigger presence in the second half of the season than he has been so far.
Speaking of Vader, Ahsoka seems to be teaching Ezra about her former master, Anakin Skywalker.
As revealed a few weeks ago, Princess Leia will be entering the fray during the mid-season premiere.
Ezra is definitely going to be tempted by the Dark Side soon, and it'll be up to his friends to save him from a terrible fate.
The producers have teased that Rebels is going to have a stronger connection to The Force Awakens moving forward, and that vibe is definitely present in this trailer (might we get some information about where Supreme Leader Snoke comes from?)
There's plenty more excitement in the trailer, but you'll just have to watch it for yourself to find out what's coming up! Check it out here:
[youtube https://www.youtube.com/watch?v=LJyxPDEvo9U?rel=0]
Star Wars Rebels returns to Disney XD on January 20 with "A Princess on Lothal," featuring the debut of Princess Leia. Are you excited about the return of Rebels? What do you hope to see this season? Let us know your thoughts in the comments down below!