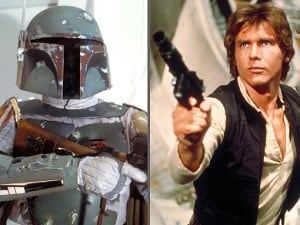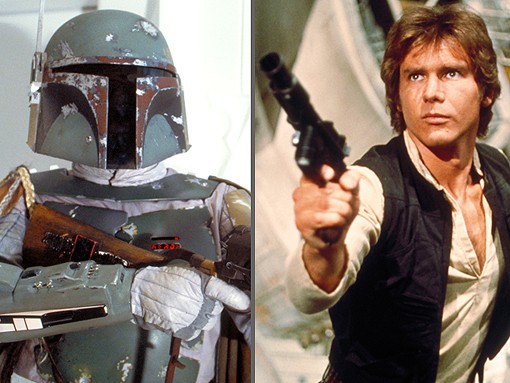 The Star Wars announcements are coming fast and furious.  Now that the jarring announcement that George Lucas had sold the quasi spiritual space opera that not only made him famous but pretty much defined the childhood of half the world, or more,  Disney is trying to shock our pants off again by announcing "Spin-Off" movies.  Zack Snyder may have actually spoiled this by talking about his possible involvement in such a project a few weeks ago, but the mouse has spoken today and we now know officially more about the Spin-Off's than we do Star Wars VII.  One will be a film with Bobba Fett as a main character, and the other would feature a young Han Solo.  This has me thinking.
Lucas had invested a tremendous amount of time in developing a live action television series. Ron Moore (Battlestar Galactica) had been involved, along with what is rumored to be a number of other contemporary TV scribes that you would recognize.  As Disney appears to be going all in on Star Wars, could it be that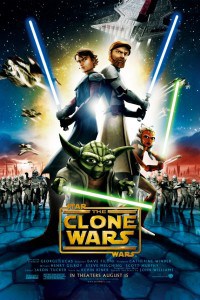 the announcement that the live action series has been green lit is right around the corner?
Where Would it Air?
If the series IS green-lit it would probably wind up part of the ABC slate.  Not a lot is known about the actual storyline, but it was an 'adult' drama that dealt with a criminal underground.  It's not likely it is Disney Channel material.
When could it be Announced?
If Disney is fast tracking the series for the 2013, or even the 2014, fall season the announcement could come any day now.  We are in pilot season right now.  Then again, Star Wars wouldn't necessarily be something that had to be pitched down the regular channels.  If Disney was ready to throw the resources needed to bring the series to the small screen, the project would probably be ram rodded straight into the Fall schedule.
Too Much Star Wars?
Would a live action series be too much Star Wars?  Well the fact is, if you were going to be sick of Star Wars you'd be sick of it by now.  Star Wars has already been part of the television slate for some time now (Dating back to that terrible Droids series, and now with Clone Wars).  The toys, the video games, the underoos–it's already been decided that human beings can generally not get enough of Star Wars.
Is The Time Right?
This is where things get sticky. Disney probably anticipated the backlash of fan paranoia when the sale was announced.  What any rational Star Wars fan fears is that Disney is going to over-market the brand.  Still there are those who think Lucas himself kind of under-marketed the brand and that he should have stepped back into an advisory role and allowed some of film-making's fresher voices take a crack at the mythology a long time ago. And don't even tell me you don't want to visit Star Wars land at Disneyworld. Blue milk at the Cantina, on me.
The fact is, those fans who had hoped Lucas would shepherd a skein of live action Star Wars developed by the mythmakers of today pinned their hopes on the live action series because that is exactly what the project was: Lucas assembling writers that were defining the present tense of science fiction, and allowing them to play with his mythos.  If there is one thing that Disney could do to prove that they have the best intentions with Uncle George's hand-me-downs it would be to move forward on the live action series.
Is it just wishful thinking that they might announce the series is moving forward sometime within the next couple of weeks?  Possibly, but since they are keeping the hype machine running anyways … why not just throw us TV infused Padawans a rancor bone to chew on.