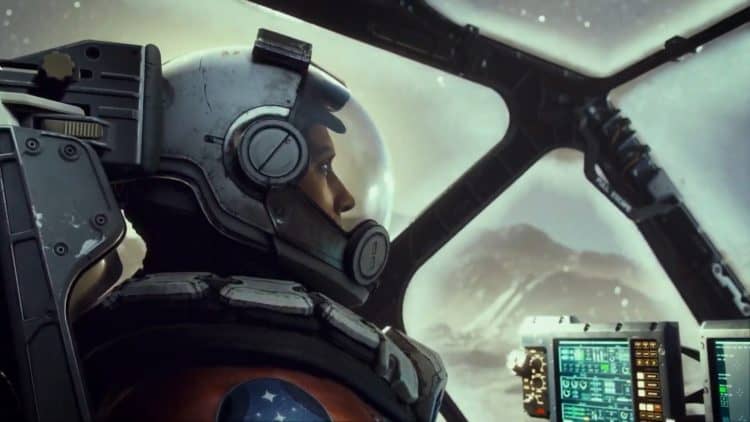 If there's one upcoming game that makes me curious more than anything, it would be Starfield, Bethesda's next big open-world game. You gamers out there surely heard of it, and if you've been keeping up with the E3 event, you probably saw the released teaser trailer. Visually, it looks beautiful. And it very well should be, considering Bethesda has been working on this game for a while now. I understand they need to take their time, but with all the hype surrounding this game, I expect it to be nothing short of spectacular. The trailer itself was more of a short cinematic, with a little sneak peak at an astronaut and him interacting with technology. We also got to see some facilities on other planets and very flashy shots at outer space. From the looks of it, I'm guessing Starfield will basically be Skyrim in space.
Oh, but don't take my word for it. Bethesda Game Studios Executive Producer Todd Howard distinctly pointed out that Starfield will like Skyrim in space in an interview with Washington Post. He added more by claiming that it will be more "robust" than Skyrim. I'm not sure what he exactly means by that, but if I had to guess, I'd say he intends it to be far superior graphically. That's how it should be, since Skyrim is a 2011 game and we all remember the very annoying bugs that came with it. Perhaps Starfield will have far less of that, and if it does, then I'll certainly call it more robust.
What else did we know about Starfield before the E3 event? Given that it's a Bethesda game, we can expect a big open-world role-playing game where you can customize you're main character. Sounds a lot like Skyrim, but like Oblivion, Skyrim took place in one fantasy setting that was essentially one country. Both settings had several cities, small towns, and the rest was open land filled with quests. That sounds like an ideal setting for an open-world RPG game. Even the Fallout games had a similar setting, but in a post-apocalyptic world. That made sense for Bethesda, but this new science fiction setting seems like a real stretch.
Now don't get me wrong, I have a lot of faith in Bethesda. Personally, I was never really into the Fallout games, but Oblivion and Skyrim are on my list for some of the greatest games of all time. I remember back when the first Starfield teaser trailer was released back in 2018 and for a quick teaser, it really intrigued me. I mean, it's pretty rare that we get a big Bethesda game, so the announcement alone got me excited. But like everyone else, I spent some time wondering what kind of game we'd be looking forward to.
By the looks of this new trailer, it seems there will be some space exploration and just checking out the beauty of outer space and other planets. If that's the case, I'm seriously hoping for more than just the long and red fields of Mars. If Starfield is really going to be Skyrim in space, then what kind of combat can we be looking forward to? Of course, Skyrim was all about using swords and magic to defeat your enemies. With the sci-fi setting of Starfield, I predict we'll be using a lot of guns. But not just any guns, highly advanced guns that can shoot all kinds of projectiles.
And how many different enemy types did we have to fight in Skyrim? Oh, just about every kind that we've seen in every fantasy movie and game. From giants, to orcs (which you got to play as), to vampires, to werewolves, and to the evil sorcerers, Skyrim had just about everything. I have a feeling Starfield will have pretty much every monster and dangerous alien we've seen in science fiction movies. And since we'll be experiencing a lot of space exploration, can we expect some starship combat? For game called Starfield, I would really think so.
So what else can Starfield give us besides very beautiful graphics? The short answer would be a lot. I am very excited to see what Starfield has to offer, because Bethesda. If you've never played a Bethesda game, then you've probably never experienced a real gaming experience. Check out the remastered edition for Skyrim and you'll see exactly what Bethesda is capable of. Starfield will be released on November 11th, 2022. It's a highly anticipated game, and Bethesda has taken a long time to perfect it, so let's hope it's worth the wait.