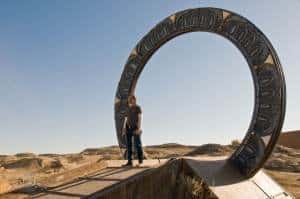 It's the end of an era for another sci-fi series.
According to GateWorld.net and Airlock Alpha, fans of Stargate Universe and Stargate in general were delivered a double whammy of blows this weekend at the Official Stargate Convention when Stargate producer and franchise overseer Brad Wright announced that the franchise as we know it is officially dead… at the moment.
'It was a great ride and I felt really good about [SGU] and about Stargate in general,'Wright told the stunned crowd in Vancouver. 'When something's been a part of your life for 15 years, it kind of takes you over.'
What does this announcement exactly entails? Well, the proposed SG-1 movies and Atlantis movies are now canceled as well as a the possibilities of a potential wrap up movie for the recently canceled SGU, which will end its run on SyFy next month.
The cast members of SGU went on Twitter to speak their minds to the fans of the show. David Blue, who portrays whiz kid Eli Wallace on SGU, tweeted to fans "I am incredibly proud of SGU and I'll calmly discuss why with anyone who wants to challenge that in person."
As for the role of Eli and the cancellation of SGU, Blue stated that wished the cast and crew of SGU had a chance to have one last moment with each other on set, and that he "can't imagine" not donning Eli's trademark graphic tees and snark demeanor.
Brian J. Smith, aka Lt. Matthew Scott, shared his co-star's sentiment and thanked the fans through his Twitter account before offering a glimmer of hope for the future of the franchise.
"That's not to say that Stargate could [not] re-emerge later on down the road in some form, but for the foreseeable future, this is it."
Brad Wright also feels that the Stargate brand is far from dead, because "it's a franchise."
"Stargate is not over. Somebody smart from MGM is going to figure it out, and something will happen."
Let's hope so…
Are you guys sad to see this franchise leave so soon? What would you like to see in the future? A reboot ala J.J. Abrams' "Star Trek" or a continuation of the established history/canoncity laid out by SG-1, SGA, and SGU?
Sources: GateWorld, Airlock Alpha