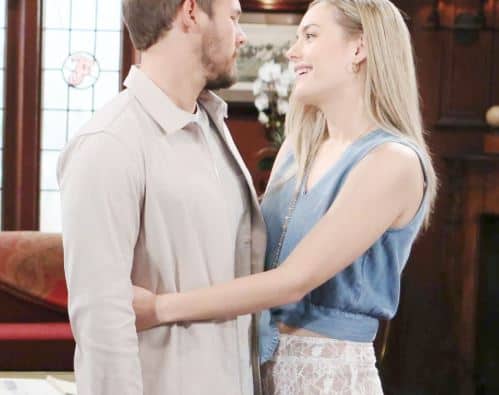 The Bold and the Beautiful fans are not shocked to see that this is what's happening this week, but we all watched as Steffy made the decision to be hopeful about a future with Liam yesterday. We know that things with Hope will have to come second to this baby – mostly because that's what Maya has taken the time to explain to everyone that needs to know how important this is – but we also saw that Steffy decided to make it her personal mission in life to be happy for herself and hopeful of her future. It's not a bad decision, we think, but it is one that might blow up in her face if she is not careful about how it's going to work for her. She's got a lot to work through.
We also saw that things between Ridge and Brooke are only growing more uncomfortable. They cannot even stand to be in the same room as one another without arguing over whose daughter is the best choice for Liam, and this is going to make the rest of their marriage very uncomfortable. In fact, we wonder how they even think this is the stuff a good marriage is made of. We can't imagine it is, nor can we imagine that this is going to work for them much longer. We predict this will not take much longer to fall apart. Honestly, it's bad news all the way around. They both think they are right. They both put their daughter's personal business before their marriage, and they both made it clear yesterday they think they are very right.
What's Happening on the Bold and the Beautiful
'How To Get Away With Murder': Rome Flynn Upped To Series Regular For Season 5 https://t.co/zeRVFbKeIX pic.twitter.com/izWIOAkLn4

— Deadline Hollywood (@DEADLINE) June 8, 2018
One thing we think is worth mentioning is the new role of Zende. Rome Flynn is not an unfamiliar face around here, but he's also becoming a very familiar one elsewhere. We predict that he will become a very household name much sooner than you might imagine now that his guest starring role on the very popular primetime show, "How to Get Away with Murder," has been upped to a series regular position. He'll be in the beginning intro. The credits. The whole thing. And that means he's going to really show off how famous he's becoming. It's a happy situation for him, and all of his BB family are happy for him and his success in this new role and chapter in his life.
Another very exciting piece of information occurred recently when Lawrence Saint-Victor (you know him as the elusive Carter) made the announcement that he and his real-life wife are expecting a baby boy soon, which is just some of the most exciting news around. If you haven't already heard and sent over a quick congratulations, make it a point to tell the soap star and his wife that you're happy for them.
What's Next on the Bold and the Beautiful
TODAY: Steffy updates Ridge on her relationship with Liam. #BoldandBeautiful pic.twitter.com/zbjSLUjRnB

— Bold & The Beautiful (@BandB_CBS) June 11, 2018
There's a lot going on as we reach into the realm of what is coming next. We hear that Maya's character is about to get a lot more screen time, but we aren't surprised by that with all the sage advice she offered yesterday. She's in the market for a new situation, and we think that she might get one. We thought her issues with her sister might have made her a more popular character with a bigger story earlier this year, but writers kind of fizzled that whole baby mama drama situation out into a major nothing.
We also hear that Wyatt and Katie will spend some time together today. They've had some downs lately after she encouraged him to go against his own moral belief and allow Liam to make a terrible decision fueled by their father's lies. And now he is working on making things right with Katie as they discuss the love that they are not sharing with anyone else. Does anyone else wonder if this conversation is going to be the beginning of the end for them? We think he and Sally might have a future, after all.
Stay tuned for more The Bold and the Beautiful and be sure to check out TVOvermind daily for the latest The Bold and the Beautiful spoilers, news, and updates.