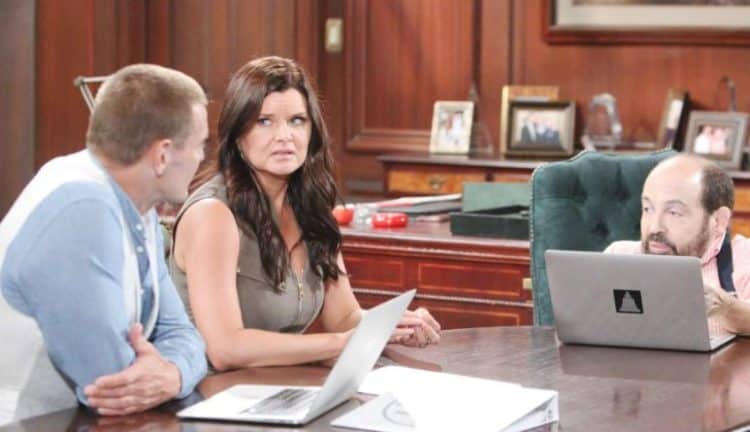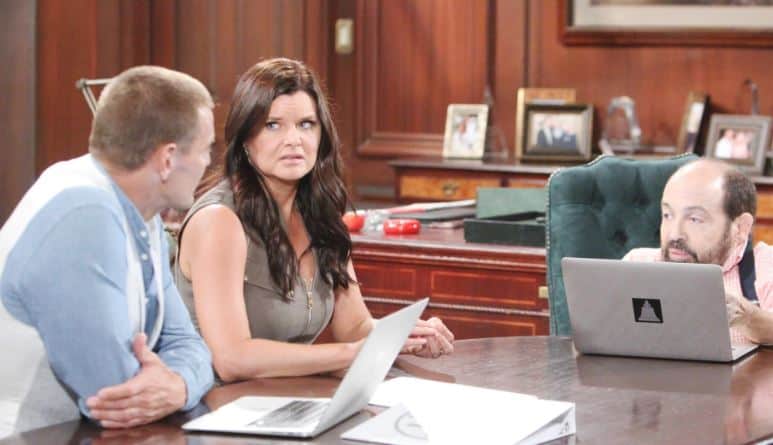 The Bold and the Beautiful recap always leaves us wondering how so many people can be so confused about so many things all the time, but we totally get it. Well, we don't get it, but that doesn't take away from our enjoyment of it, you know. We know that Steffy is a bundle of emotions, and we know that she has every right to be. We know she's worried that Liam won't want to get married right now, and she's certainly kicking herself in the rear end for allowing Bill to get in her way and make her decisions for her. She and the rest of the people in her life are constantly more worried about what they can do to and for everyone else, and it never works out for them in a good way. They can't seem to get anyone on their side and they can't seem to stop making decisions based on how they make other people feel rather than how they work for them. It makes zero sense to us, to be quite honest.
And she's currently worried. We saw her. She doesn't know where to stands, how he's feeling, and what he's going through. But she is, as always, focused on herself and how her own life will work out in the grand scheme of things. She's got a man to worry about, and she can't help but wonder if she can change things in his favor. We also saw that there is something going on that we can't handle with Sally and Wyatt. She got a warning from Hope, and she's sharing it with him. He is not, of course, happy about the fact that Hope is making her miserable. He wants her to back off his new lady friend.
What's Happening on The Bold and the Beautiful
Heather Tom looking amazing! #boldandbeautiful

— FiloGirl (@Cubsfan36) July 9, 2018
Everyone is all about Heather Tom and how good she's looking lately, and we have to go with you on that one. Perhaps it's all the men in her life right now on the show? She's been with the very young Wyatt, she's moving on with Thorne even if she doesn't know it yet, or maybe she's got some exciting stuff going on in her personal life? We don't know, but we agree with the fans. She's looking extra saucy lately, and it's all good for the fans. Keep it up, Heather; it's just fabulous when you add a little extra to your already gorgeous persona.
What's Next on the Bold and the Beautiful
TODAY: Liam and Steffy bond over the love they have for their daughter — although Steffy remains distracted by Hope's pregnancy. #BoldandBeautiful pic.twitter.com/2Bac3gWNMQ

— Bold & The Beautiful (@BandB_CBS) July 9, 2018
We know things don't always work out, but we also know that sometimes they do. Emma and Xander have been having some moments. He just opened up to her about something that he's been keeping a secret for a very long time, and that certainly means they've now bonded a bit. They have a chance to figure things out for themselves, but Zoe is keeping a close watch on them. In fact, it seems she is currently keeping a very close watch on any and everyone. She's been in the background a lot lately figuring things out for herself, overhearing conversations, and we are kind of left over here wondering how she will handle all this and what it means for her and everyone else. She's making some bold moves, and we wonder about a lot of that.
Wyatt will do anything to fight for Sally, but he has some serious opposition now that his ex and Thorne are working together to pin her as the person responsible for threatening Hope. Hope, on the other hand, has more on her mind than that. But it won't be an easy road for Wyatt to continue to defend Sally with Katie working so hard to make sure things don't work out for him. She totally hates the girl he's dating — and we think for more reasons than she'd really like to admit — and she's going to make things as difficult as she can for the young woman. Katie can be a little scary sometimes, so we are watching this one.
Stay tuned for more The Bold and the Beautiful and be sure to check out TVOvermind daily for the latest The Bold and the Beautiful spoilers, news, and updates.