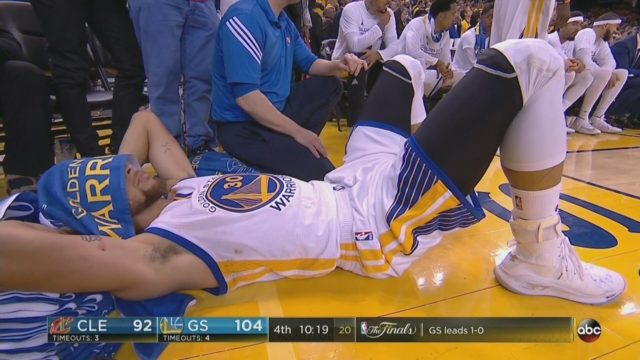 I'm not 100% sure how to react to what's now the most glaring image of game 2 of the NBA finals.  The Warriors dismantled the Cavs again last night to take a 2-0 lead in a series that seems to already be getting away from Lebron James and his crew that are clearly over matched despite playing their hearts out.   But it's not the differences in the levels of each team we're focusing on right now, it's Steph Curry taking a nap during the 4th quarter.
Naturally we in the media are going to try and pick something to make a bigger deal when you have a series that's been nothing short of "boring" for the mere fact that it hasn't been even remotely close yet.  But is Steph Curry lying down on the floor with a towel over his head THAT big a deal?  Of course not.  The media is simply turning the Warriors and Curry into the villains right now.  To that I say "give me a break."  It wasn't long ago that everyone hated Lebron James for making "the decision."  Now we're just ragging on Curry because he was lying down?  Come on.
To be honest I"m not a huge fan of Curry's swagger and arrogance.   I personally think he's way more arrogant than confident, but until any team can show up these Warriors (which is highly unlikely), who gives a crap whether or not the guy takes a breather on the sidelines?
https://twitter.com/JaeAzizi/status/871551233005207552