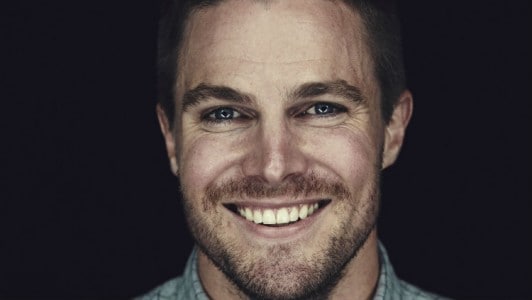 If there's one thing you can count on from Arrow star Stephen Amell, it's his amazing social media presence. From campaigns to raise money for important charities to weekly events on his Facebook page for fanart and memes, he knows how to get fans involved. Recently, he's taken a more positive stance towards Twitter, including it in his social media repertoire as more than just a place to unleash a string of sometimes questionable numbered tweets.
This morning, he proved just how fun Twitter can be for the fans as he urged everyone to retweet something from a man claiming that he would get an Olicity picture tatooed if his tweet reached 5000 RTs.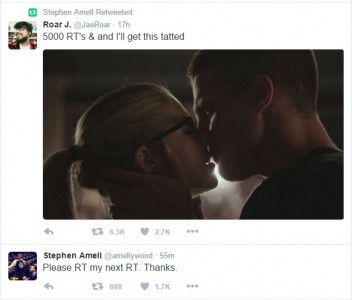 Olicity fans are nothing if not dedicated and they took this challenge and ran with it. With Amell and this group of dedicated fans behind the cause, the picture quickly reached that number…and more. In a hilarious tweet, Amell encouraged the man to get the tattoo on either his quad or back, reminding him to pay close attention to how delicate his hands are.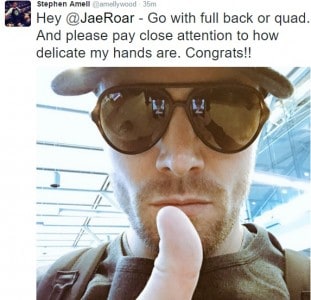 It's been great to see Amell turn to Twitter in a more positive way recently, using it as a tool to interact with and joke around with fans. While it may not be his favorite platform, he has been putting in an effort to make good use of it. I think this morning was the perfect example of how fun and interactive Twitter can be and hopefully we'll see more of this from him in the future.