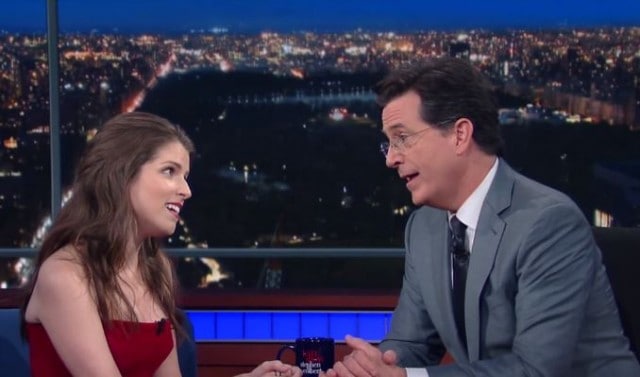 Anna Kendrick stopped by The Late Show With Stephen Colbert last night, even though, as she mentions in the video below, she didn't have a movie or any type of project to promote. Instead, she and Colbert were able to just talk and have a conversation about whatever they wanted to. And of course, since this is Stephen Colbert we are dealing with, the two of them discussed two of his favorite things: Lord of the Rings and Broadway.
Near the beginning of his interview with Kendrick, Colbert said that he had heard that she was a big Lord of the Rings fan. He was curious how and when she had gotten into the series.
"I am, yeah," Kendrick told him. "Lord of the Rings was kind of like my gateway in high school into fantasy….My best friend and I didn't know much about it, so we started watching the movies, and then before long, we were doing annual marathons of the three extended editions."
Kendrick and Colbert also discussed which characters from Lord of the Rings they would be. Kendrick said that even though she and her best friend would like to be Frodo or Sam, in real life, they are actually "kind of the lazy hungry ones," making her Pippen and her best friend Merry. Colbert jokingly said that he would "settle" for Aragorn.
But as I said above, their whole conversation wasn't only about Lord of the Rings. The two of them also discussed Kendrick's role in the Pitch Perfect films and, before she became famous for her work in movies, her time on Broadway.
"So I lived in New York with my dad while I was doing the show for about six months," Kendrick said, describing her first big Broadway experience. "It was amazing. It was like hard work, and they treated you like a professional. You know, no one gave you a break because you were a kid. But everyone was so wonderful and warm to me, and I think it fostered my love for it."
Both Kendrick and Colbert love Broadway so much that the pair even decided to sing a showtune together on The Late Show. Colbert had the Late Show band play "Falling In Love Is Wonderful" from Annie Get Your Gun, and they both absolutely killed it.
Watch Anna Kendrick and Stephen Colbert talk Lord of the Rings and sing "Falling In Love Is Wonderful" in the video below:
[Photo via YouTube]