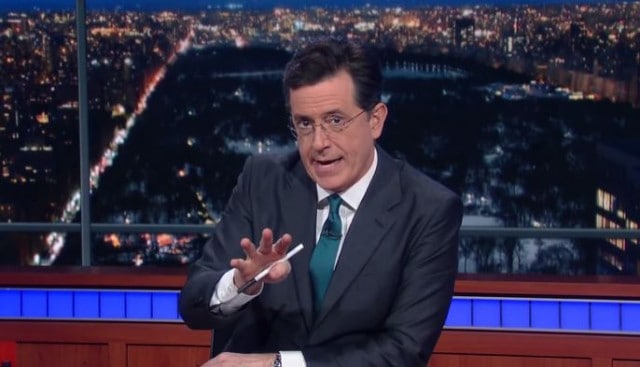 With divisive politics immediately becoming the primary focus of Supreme Court Justice Antonin Scalia's death only hours after it was revealed to the public, Stephen Colbert's tribute to Scalia last night on The Late Show was incredibly refreshing. While Colbert didn't try to pretend that he agreed with Scalia's views, he did commend him on his intelligence and commitment, calling him "an intellectual giant who left his mark not only on the Court but on how to interpret the Constitution." However, it was Scalia's great sense of humor that Colbert appreciated and will remember the most.
"People have actually broken down the transcripts of oral arguments, and he told more jokes and got more laughs than any of the other justices," Colbert said about Scalia. "And that might be part of the reason why he could be such good friends with justices he disagreed with like Ruth Bader Ginsburg and Elena Kagan."
Colbert then went on to discuss the one conversation he had with Scalia at the White House Correspondents' Dinner back in April 2006. It was after he had given his speech, and although Colbert said he "had a good time giving the speech," not many people laughed, and no one made eye contact with him after it was finished, with the one exception being Scalia. As shown in a clip from the event, the late Supreme Court Justice was laughing very hard at Colbet's joke , and he event went up to the Late Show host when he was done to speak with him.
Check out the video below to hear the rest of Stephen Colbert's story and to find out how Antonin Scalia had to say to Colbert.
[Photo via YouTube]