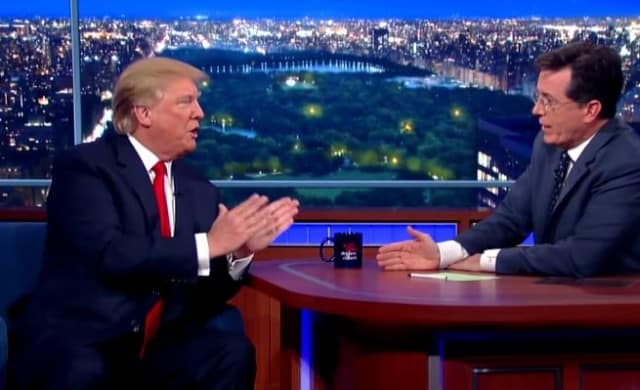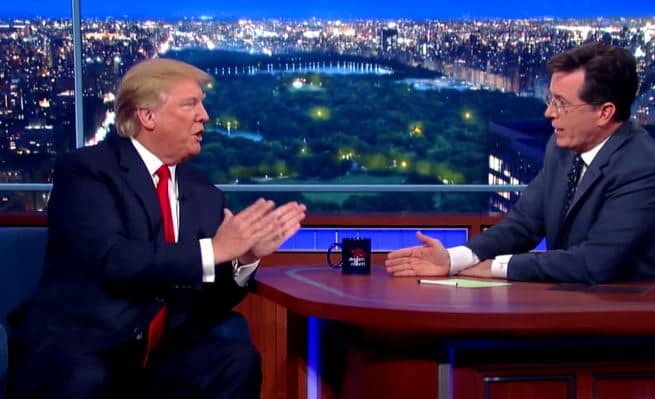 Republican presidential candidate Donald Trump finally made his much anticipated appearance on The Late Show With Stephen Colbert last night. And although many expected the interview to be a political bloodbath, with Colbert going after every single one of Trump's controversial views, it was actually pretty tamed.
However, that tameness didn't mean that the interview wasn't entertaining. In fact, Colbert's subtle jabs at Trump, who, to his credit, laughed them off with ease, were still pretty biting, and I personally appreciated that Colbert did attempt to talk about some of the issues that Trump has taken an "interesting" stance on, such as immigration. Plus, he gave the presidential candidate an opportunity to make amends to those he wronged after he apologized to Trump for the many things he's called him over the years.
But still, nothing was better than when the Late Show host ended Trump's appearance with a creative game: he gave Trump a quote that was either said by the character Colbert played on The Colbert Report or by Donald Trump himself and asked him to guess who actually said it. Trump actually did well, getting the most of the answers correct, but the biggest laugh came from the last quote of the game, which was said by neither Trump nor Colbert (we won't spoil who said it here).
Watch Colbert "apologize" to Donald Trump below, before giving him the opportunity to apologize to the many people he's insulted in recent months.
And here's the second video, in which Colbert asks Trump to guess who said each quote: Colbert or The Donald himself.
[Photo via YouTube]