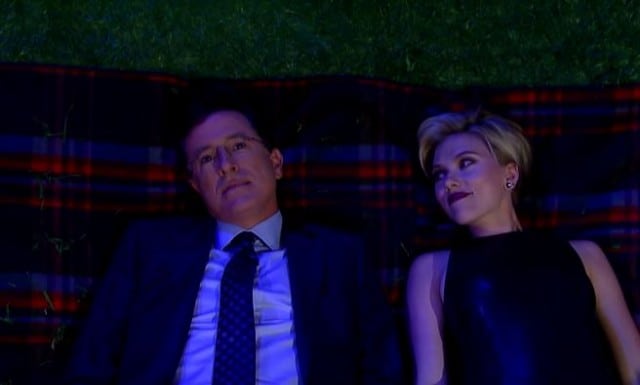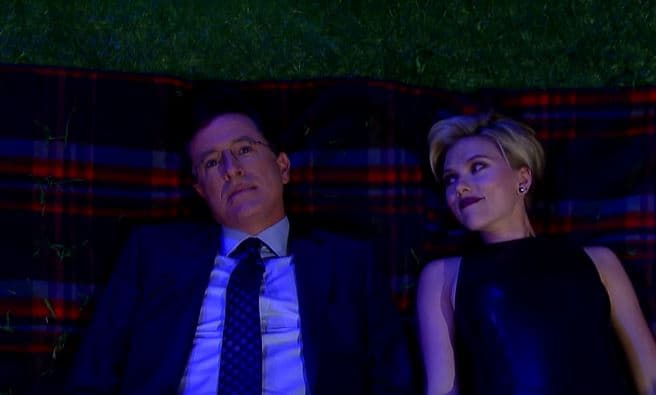 During his second night as host of The Late Show, Stephen Colbert welcomed Scarlett Johansson and spoke to the Avengers star, who had just flown back to the United States from Paris to be on the show, about a variety of different topics, including her husband (Romain Dauriac, who is French and the owner of an independent advertising agency), whether or not she speaks French (she's learning), and how female actors in Hollywood are also expected to stay in shape and look "good" all of the time (to which Johansson flexed her muscles). However, after the commercial break, Colbert decided "to get real for a minute" with his guest, as he and Johansson debuted what could be a recurring bit on the new Late Show called "Big Questions With Even Bigger Stars."
Throughout the segment, Colbert and Johansson pondered the difference between living and being alive, whether or not they'd rather have hands as feet or feet as hands, and what Oprah may be up to. It was unique, funny, and a little bit awkward, which sums up Colbert's brand of comedy quite well.
Watch Colbert and Johansson deal with the "big questions" below, and comment to let us know whether or not you want this to become a recurring bit on The Late Show.
[Photo via YouTube]