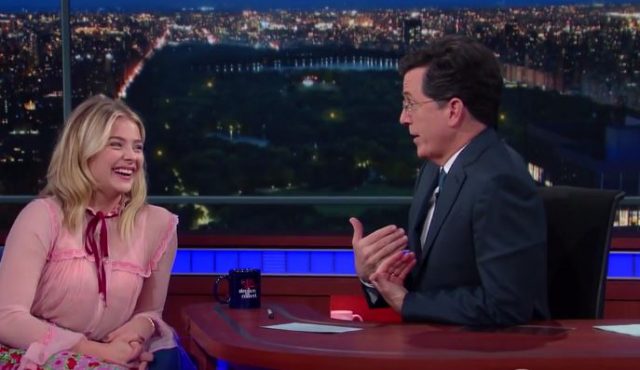 Chloe Grace Moretz stopped by The Late Show With Stephen Colbert last night to promote her upcoming film Neighbors 2: Sorority Rising, which also stars Seth Rogen, Rose Byrne, and Zac Efron and hits theaters next Friday, May 20. However, while she and Colbert certainly talked about the movie, which centers on a new sorority now being the enemy of Rogen and Byrne's characters, they dug into some of the topics surrounding such a female-centric film, including the idea of "girl squads" and the negative connotation that is now attached to the word "feminism."
Moretz told Colbert that she isn't part of any squad, but that she has "more of a random collection of friends." When Colbert asked if she would ever join a girl squad, such as the one that Taylor Swift apparently has, the Neighbors 2 star asked what she'd have to do in order to become a member.
"I don't know," Colbert said. "I don't know. I've never been in a girl squad."
"Well, you can be in my girl squad," Moretz told him.
In addition to their discussion of sororities and girl squads, Moretz and Colbert also talked about her support for Hillary Clinton in the 2016 presidential race and how she is an outspoken feminist. When Colbert asked her why so many women don't want to identify as feminists anymore, Moretz shared her thoughts.
"I don't know," Moretz said. "I mean, the word's become incredibly polarizing lately, and I don't really know why….I think that we need to get to a point where it's more about gender neutrality and less about just feminism and just raising one particular sect. You know what I mean? We need to make it more neutral because I think the word's become demonized a little bit."
Watch Chloe Grace Moretz and Stephen Colbert's full conversation in the videos below:
[Photo via YouTube]