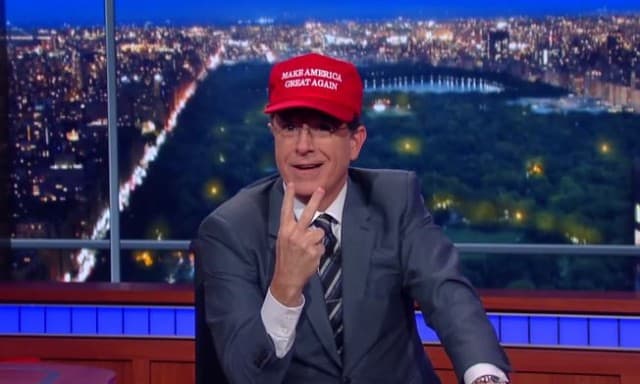 The CNBC moderators from Thursday night's Republican presidential debate have been heavily scrutinized over the past couple of days for the types of questions they asked and their overall failure to prepare for the event, and as Stephen Colbert made pretty clear last night on The Late Show, those criticisms aren't totally unfounded. In the video below, Colbert highlights some of the more outrageous moments from the most recent debate, and no matter what your politics are, it's pretty entertaining stuff.
As Colbert points out, not only did some of the questions come off as amateurish or just plain rude, but there was also a lack of preparation on the part of the moderators, such as when Donald Trump was asked to explain his objections to Mark Zuckerberg's stance on immigration. Trump responded that he never was critical of Zuckerberg's opinions, making the moderator question where she had heard the information from.
"I don't know," Trump told her. "You people write this stuff."
But this wasn't the only time that Colbert shed a positive light on the Donald. In fact, the Late Show host even donned a "Make America Great Again" hat and waved Trump flags when thanking the presidential candidate for helping to ensure the debate wasn't any longer than two hours.
"You truly are a great leader," Colbert said of Trump. "And you've earned my vote, as long as you can negotiate your presidency down from four years to…you know, two hours feels about right."
Watch Stephen Colbert discuss the debate below:
[Photo via YouTube]