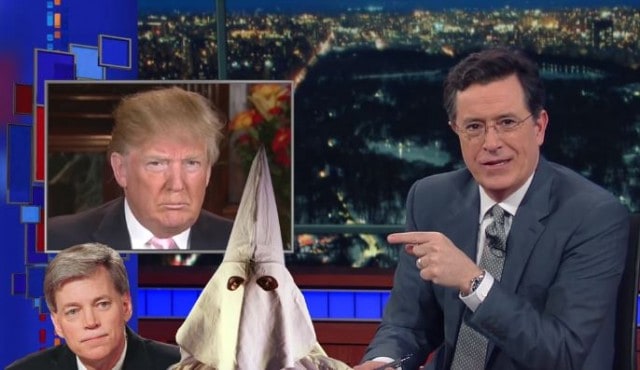 Stephen Colbert has never shied away from poking fun at Donald Trump (or, as we should all call him from now on, Donald Drumpf) on The Late Show for the past few months. However, last night, instead of simply cracking jokes about the Donald, he gave the Republican presidential candidate some advice after he failed to answer whether or not he condemns David Duke and the Ku Klux Klan, a question that Colbert called "the easiest question in American politics."
As many people know by now, this all started this weekend after CNN's Jake Tapper asked Donald Trump if he condemns the Ku Klux Klan and their actions after former KKK grand wizard David Duke expressed his support for Trump. Instead of disavowing Duke and other white supremacists, Trump continually stated that he knew nothing about them and therefore couldn't answer the question.
"Yeah, Donald Trump needs to know before condemning David Duke or the KKK," Colbert joked. "It's not like they're Muslim or born in Mexico. He needs to think about it."
Colbert stated that he previously thought that the question that Hillary Clinton received about whether or not she had ever lied to the American people was the easiest one he had ever seen in politics. That all changed after seeing Trump struggle with his thoughts on Duke and the KKK.
"When someone asks you will you disavow the Ku Klux Klan, just say yes, and start high-fiving your future cabinet," Colbert said. "Once they say Ku Klux, you know what's coming next. It's not going to be Ku Klux Krispies or Klu Klux Crunch Wrap."
Watch Stephen Colbert discuss Trump's latest blunder in the video below:
[Photo via YouTube]