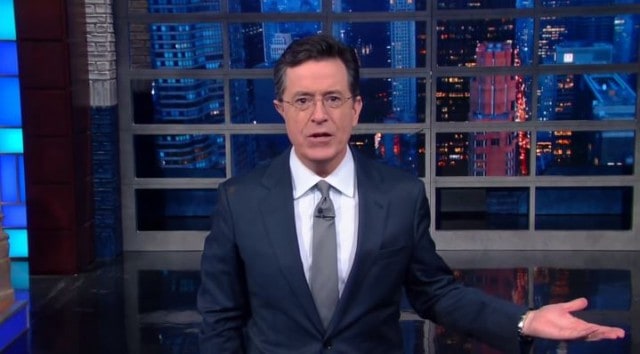 As Stephen Colbert discussed last night on The Late Show, there's a new Harry Potter story coming, and it will be hitting shelves pretty soon. However, it's not a new book; it's the script for the upcoming play, Harry Potter and the Cursed Child, which takes place 19 years after the end of Deathly Hallows and focuses on an adult Harry working his job at the Ministry and raising his kids. And while I, a huge Harry Potter fan, will most definitely be reading the script for The Cursed Child (especially since there's no chance of me being able to see the play live), I do have to say that Colbert brings up some fair points when he questions if we need another story about Harry, Ron, and Hermione.
"The play actually takes place 19 years after the last book, and features a 30-something Harry balancing his job at the Ministry of Magic with being a father," Colbert says. "That really sounds depressing."
Colbert is happy that "we're going to get something else about that whole world" but isn't sure if Harry is the person that we should follow, since "Harry Potter's life peaked when he was 17." In fact, Colbert takes it one step further and urges all authors to never revisit the classic childhood stories that they've created.
"I can't take reading about a grown-up Holden Caulfield assistant managing a Costco," Colbert says. "I don't want to read about the Narnia kids' unfulfilling marriages."
Check out Stephen Colbert's entire monologue about Harry Potter and the Cursed Child below. And for all the Harry Potter fans out there, what do you think? Are you excited that we're going to see Harry again when he's older, or did the epilogue for Deathly Hallows do a good enough job at showing us that he had found happiness?
[Photo via YouTube]