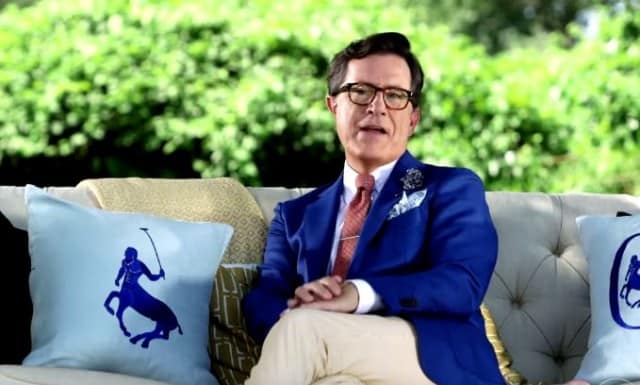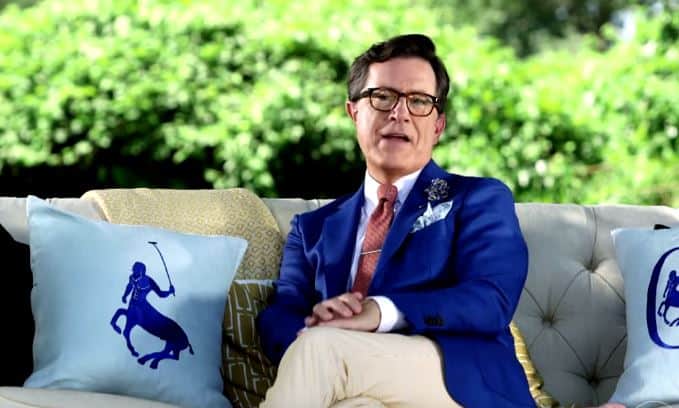 Stephen Colbert may be the host of The Late Show, but did you know he's also an entrepreneur? Last night on the late night talker, Colbert introduced everyone to his new  lifestyle brand, following the footsteps of Gwyneth Paltrow, Reese Witherspoon, and Blake Livery, who have created their very own brands and are selling their products at ridiculously high prices.
"If you're like me, and I am, you're a unique individual who wants to be just like Stephen Colbert," Colbert said, before introducing us to Covetton House, his brand new company that combines "classic Southern living, the breezy charm of the English countryside, and whatever they had leftover at the prop warehouse" (that last part explains the carousel horse).
With Covetton House's motto being "Want," the company offer some great deals for customers that they won't be able to deny, like the suede coasters that are only $175 per coaster, or a elegant and unique sofa "lovingly reclaimed from an artisanal curb in Brooklyn." Personally, though,  my favorite item from Covetton House is the $895 handheld bison wallet, which isn't made of bison; it was made by an actual bison, ensuring that it's truly one-of-a-kind (and just as Colbert reminds us, you can't say "bison" without "buy some").
Watch the hilarious video below, and be sure to check out Colbert on The Late Show every weeknight at 11:30 on CBS.
[Photo via YouTube]