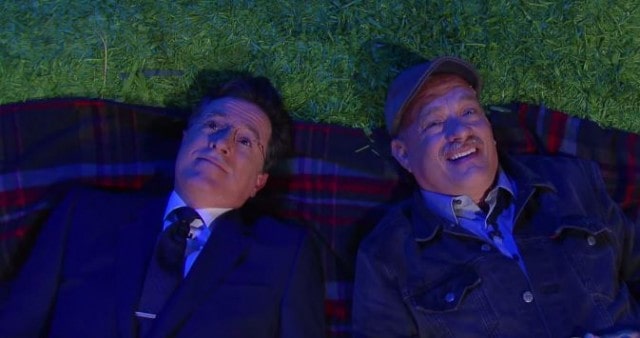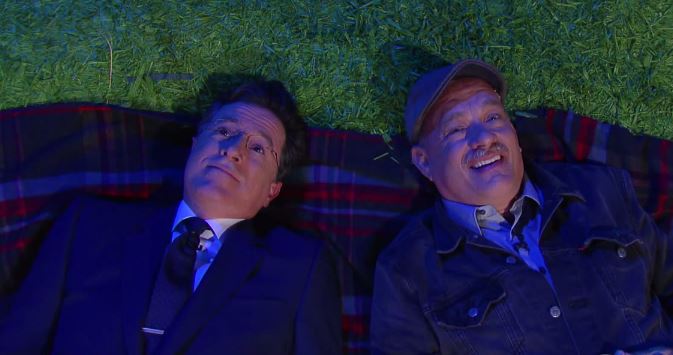 During his first week as host of The Late Show, Stephen Colbert welcomed Scarlett Johannson on during his second show ever, and the two of them talked about some pretty "deep" stuff in the first-ever segment of "Big Questions With Even Bigger Stars." Last night on The Late Show, though, Colbert had another major celebrity join him underneath the starry night sky and ponder life's biggest mysteries: Tom Hanks.
As they lie next to each other (somehow not breaking into fits of laughter), Colbert and Hanks discuss a variety of topics, ranging from why bad things happen to good people to time travel to what Santa does during the summer months. And you're most definitely going to want to hear Hanks' pitch for the best idea for a movie that hasn't yet been made (a quick hint: it involves dogs and the President of the United States).
However, the best answer that Hanks gives is easily his response to Colbert asking him "Why are we here?" It's too funny to spoil, so watch the video of Stephen Colbert and Tom Hanks below to find out what the actor (whose upcoming film Bridge of Spies opens this month) says. Plus, hear his responses to an assortment of other great questions (including one that involves babies and Hitler).
The Late Show With Stephen Colbert airs weeknights at 11:30 p.m. on CBS.
[Photo via YouTube]