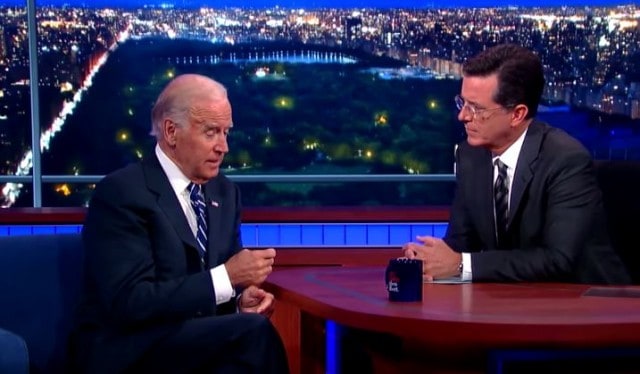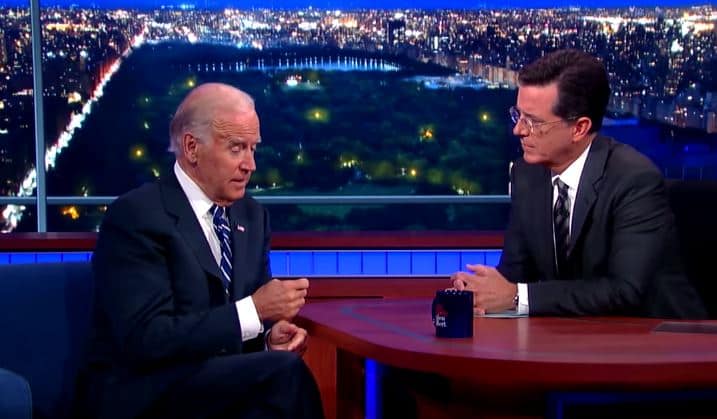 Stephen Colbert delivered two strong opening nights as host of The Late Show, filled with some very comedic moments and solid interviews. However, during Colbert's first two nights, there was nothing that came anywhere near close to the incredible interview he had with Vice President Joe Biden on last night's Late Show. In fact, I can't remember there ever being something like it on late night television, at least not in recent years.
From the start of the interview, it was clear that both Biden and Colbert have a strong affection for one another, but what was so surprising and fantastic was not only their shared pain, as both men discussed tragically losing members of their family throughout their lives, but their shared honesty and authenticity when they spoke. There was not a single false moment throughout the entire conversation; both men were just being who they truly were, and it was raw, emotional, and spectacular to watch.
Here's part one of the interview:
And here's part two:
Obviously, not every interview that Colbert conducts on The Late Show can or will be as powerful as this one with Biden. However, just the fact that we know that he can deliver something as real, honest, and remarkable as this on late night television is pretty special and a great reason why it's nice to have Stephen Colbert as our host on The Late Show and not "Stephen Colbert."
Did you watch the Joe Biden interview live last night, and were you as moved as I was? And overall, how do you think Colbert has been as a host so far?
[Photo via YouTube]