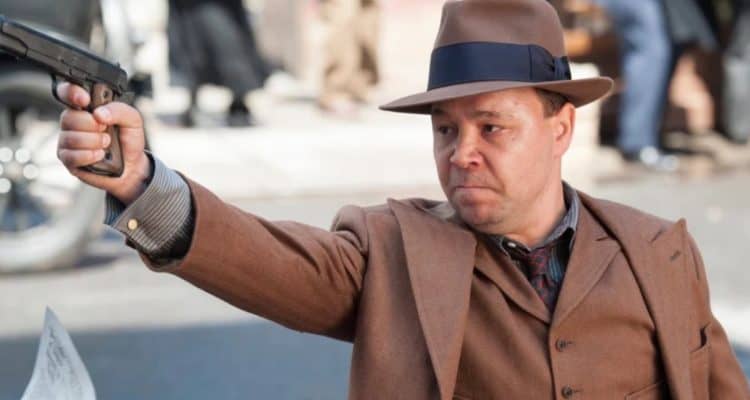 It's never ideal to hear that your next part in a popular show is to be held up indefinitely since that could mean a number of things. Hopefully for Stephen Graham it won't mean that anyone will be thinking twice about his upcoming part in Peaky Blinders season 6. As Kevin Burwick of TVWeb tells it, his agent had everything lined up for him to make his way onto the show, but there aren't any other details aside from this at the time. Graham has been a notoriously effective character in many shows and movies throughout his career, and a stint on Peaky Blinders, which has hosted such names as Tom Hardy, Sam Neill, Adrien Brody, and of course the lead star Cillian Murphy, is bound to be just up his alley. After all he did play Al Capone in Boardwalk Empire and Anthony Provenzano in The Irishman on Netflix. He also played the role of Shang in Gangs of New York, so it's fair to say that he enjoys starring in period pieces as he's done his absolute best to fill out each role on every occasion. It's easy to think that he'll do just fine in whatever role he's being given once the show returns, which at this point is unknown. The idea though is that since theaters and other businesses are hoping to be open by July that production on many shows and movies will start up once again in order to get things on the road. But that could mean that we'll still have to wait a while for the sixth season to come along.
For fans of the show it's going to be even harder to wait that much longer since if anyone remembers, season 5 ended in a way that might have drawn a lot of nerves to the point of breaking since Tommy not only had a gun to his head and looked ready to do more than stroke the trigger, and his world was swiftly falling apart. Obviously the life of crime that treated so many to its charms and riches isn't treating the Peaky Blinders so well since their dominance and their family are swiftly fading and eroding with one decision after another as throughout the seasons they've been tested and been found to be strong in some ways but wanting in others. Season 6 is going to have to be something that's entirely off the chain to really keep impressing the fans since those that have stuck around have done so for a reason and with a great deal of faith in the show that's been founded at times and hard to justify in others. Fay Watson of the Express has more to say in her own words.
Without offense to the show or anyone in it, but it does tend to get a bit dry now and again, requiring a little more attention than other programs. One could say that it's a thinking person's show and thus requires more, which would be fairly accurate, but to be real about it there is something about this time period that is inherently interesting, though the storytelling is a bit 'meh' at times, if only because it doesn't feel as though it moves as quickly as it could. There's no doubt that Peaky Blinders is telling a story, a story that is based around some truth as Sarah Philips of Digital Spy relates, and that it has some grounding in the real world. The real Peaky Blinders however operated in the late 19th century and by the 1910s had lost a great deal of power to the Birmingham Boys, another notorious gang in the UK. The fact that any of the Peaky Blinders' world is real however lends a great deal of credence to the show since despite being a bit dry at times it is quite interesting given that it represents a time in history when things were changing dramatically and were set to shake up the populace in a way that would come to shape the world as it is today. One could say that many such moments exist in history, but the fact that the story is taking place in the 1920s and that it's crept up on the Great Depression era steadily with each season is enough to think that things are about to get just a bit crazier than before.
Hopefully Graham will still be up for whatever role he's taking on when the show does start up again. As anyone knows at this point schedules can change and people can change their mind at just about any time. This would definitely be a show that he could excel in however as it's already been established, and it would be of great interest to the fans to see just what he could bring to the program.