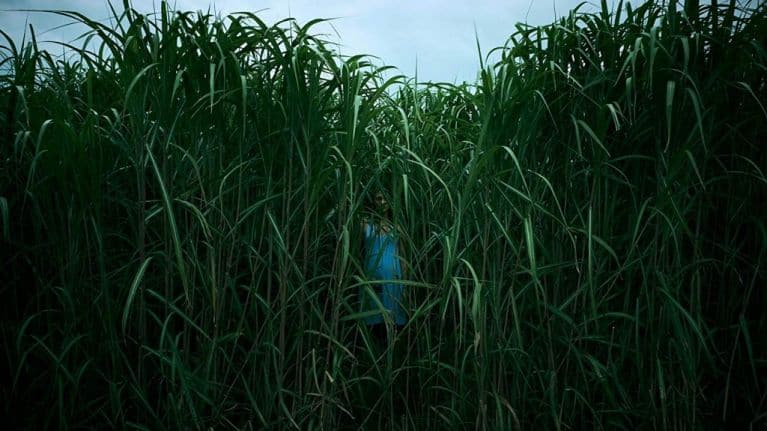 There's a serious run on Stephen King stories these days and it's something that fans have been wanting more of for years. It's been easy to say no more often than not however since up until recently there haven't been a lot of great representations of the famed horror writer's work. Every now and then one of his stories used to shine, but lately they've been meeting with a great deal of approval from fans as more directors have been paying attention to the source material and have ceased their continual and very obvious deviations from the main story. This next movie coming to Netflix, In The Tall Grass, is another collaboration with his son Joe Hill, and quite honestly it feels like the old King that we've all come to know and appreciate over the years. As J0hn Saavedra and Joseph Baxter of Den of Geek! describe it, the story will essentially begin when a brother and sister are driving through the Kansas countryside and hear a young boy screaming for help from a nearby field. That's enough to send a minor chill down many a spine, especially when Stephen King, who is known worldwide for the chills he produces, is attached to it.
As Kylie Hemmert of Coming Soon tells it, Patrick Wilson will be playing the lead role in this movie, though it does sound as though it might have been James Marsden taking the helm if not for scheduling conflicts. But the sheer terror that's already being teased concerning this movie has more to do with the terror of being found within the field than it does with actually entering. When most people look at a field of tall grass they don't generally think of danger, do they? Some might think it looks overgrown, some might think it's simply a field that's been left alone for a long, long time. A person's danger sense doesn't usually get tripped by grass since we walk upon it, mow it, and basically see it as another part of our everyday lives for the most part. But leave it to Stephen King and Joe Hill to take something so mundane and create a terrifying tale that chills us to the core as we try to figure out just how it could possibly be scary. In truth it's worse than a corn field since visibility is insanely low unless one comes to an opening in the field, which of course will only be viewed as even more dangerous as it might as well be a spotlight for a person to stand in.
Having read the book I won't bother with spoilers but the story itself is fairly terrifying and might make a person look at a grassy field differently from this point on since in truth a setting such as this does tend to have the tendency to set some hearts to racing if they dare to wonder just what the field might be hiding. King is of course a master of hiding away a secret that people will want to know more about but will still approach timidly and with great caution, but in this story it's very easy to get hooked and drawn in even if one doesn't happen to see the full point. That's just it, there isn't a definitive point that will be given, nor an explanation of what the tall grass is, or why it's worthy of a story. Some people might call that nonsense, others might call it odd, but those that have read the story might feel their heart quicken the moment they watch the movie since there are bound to be some changes and alterations as there always are, but overall it does sound as though the novella will be followed as much as possible. And what's even better? The ending is not what a person might think it will be.
Anna Menter of Decider gives a little more in-depth explanation of the story, but thankfully not enough to really give it away to any that haven't read the book. This is most definitely one of those movies in which a person might be better off reading the book beforehand just to prevent themselves from feeling absolutely lost upon watching the movie. It's likely that the movie will be misunderstood by some but enjoyed by others since King knows how to put together a good story and many directors are finally starting to wise up and follow his stories as they're written, not as they would have them. The average reader might look at the cover of the book and wonder just whether or not it has any value, since King has within the past decade written a few books that might have made a lot of fans question just what direction he really wants to go in. But In The Tall Grass is vintage King, and it would seem that Joe Hill is on the same path.