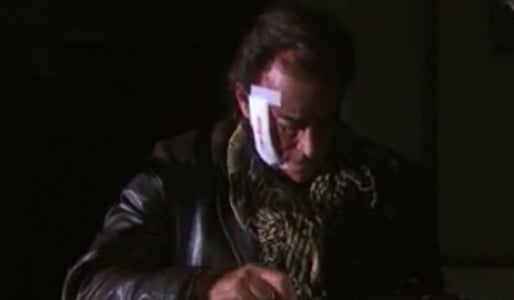 Monday's episode of Days of Our Lives proved to be a very dramatic one. We brought to you some of the spoilers for this episode over the weekend, and it turns out we now know precisely what has happened this day. Andre found his father's body. He knew where to find it, and he knew that he would find it there because he is so undoubtedly certain that Hope killed his father he cannot even stand not being able to prove it. Of course, Monday finds him in the middle of an old, abandoned building that is slated to be thrown to the ground by a demolition crew any day now, and he is playing with fire being in a building as old and dilapidated as this one. We found out today that the building was not safe and that it did contain the body of his father. When the building is blown up, Andre is inside. He'd called Chad to tell him that he needed him to meet him there, and Chad did.
However, Chad does not make it inside the building after a construction worker stops him to tell him that the demolition is going on right now and that the building is being blown up. Andre should be there, but since Chad doesn't think his brother is stupid enough to go inside a building that is scheduled to be blown up at any moment now, he eventually leaves. The building is blown up and Andre is inside. He isn't killed, but we do see him find his father's body just moments before he is blown up with the building. He wakes up, bloody and hurt and stuck under a pile of debris from the explosion. Will he find his way out, or will Chad eventually realize that his brother might be in that building even though he didn't think that it was possible his brother would be inside a building that was being blown up into a million pieces?
Chad eventually goes off to find Abigail, where he tells her that the house Stefano lived in is being foreclosed since he hasn't made a mortgage payment in a year. He has a week to make an offer and get the house out of foreclosure, and he wants Abigail to want to live there. She does not want to live there. She is totally and completely against the idea, but Chad doesn't seem to care. Perhaps this is the moment that she will realize why  her family is a little less than thrilled about the idea of the two of them getting married.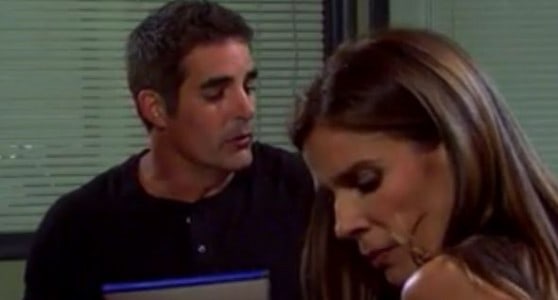 It's finally the day that Steve realizes that his wife is missing. He cannot figure out why Hope has not contacted him or Joey in the past few days. He's worried that there is something wrong with her, especially when he realizes that she never checked into her hotel room in Washington D.C. nor did she make it to her hearing. He called the hotel and was told she never checked in. It is, after all, difficult to check into a hotel room in D.C. when you are hit over the head by a woman with a candlestick and then hidden captive in her hotel room. Steve isn't stupid. He knows how Ava and Kayla have a history and that they do not care for one another. He makes his way to Ava's hotel room Monday and demands to know what she did to Kayla. Since Ava doesn't answer the door, he decides to let himself in. That is when he discovers a piece of Kayla's jewelry on the floor and begins calling Ava demanding answers.
Steve finds Ava the park. She was with Joey, who asked her to leave with him and go to Mexico. He tells her that he loves her, she tells him the same, she gives him a gift and then she tells him to go back to class, so he does what she says, but not without throwing a fit. That's where Steve finds here, and lets her have it. Ava initially denies that she had anything to do with Kayla's disappearance, but then tells Steve that if he can find the son that she gave up that belongs to them, she will tell him the location of Kayla.
Photo Credit – YouTube