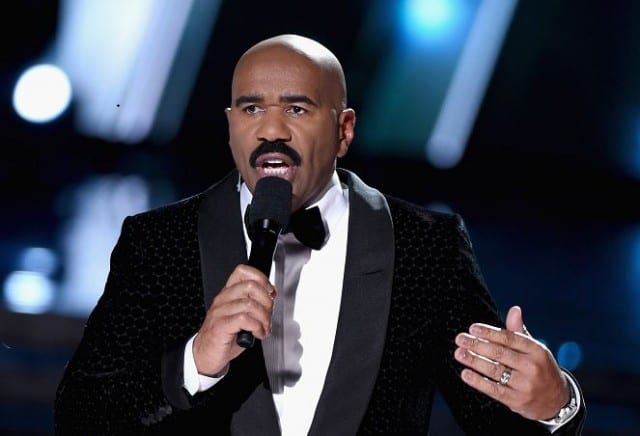 The 2015 Miss Universe pageant, which aired live on FOX last night, didn't end in a way that anyone would have expected. After the show's host, Steve Harvey, crowned Miss Colombia Ariadna Gutierrez as the winner of the competition, he quickly realized that he made a major mistake. Miss Colombia was actually the first runner-up, not the first place winner, and Miss Philippines Pia Alonzo Wurtzbach was actually the one who had won the pageant.
After making the error, Harvey was incredibly remorseful and apologetic. The host even took to Twitter to say how sorry he was, writing that he felt "terrible" about what happened and apologizing to both the constants and viewers for what he called "an honest mistake."
Meanwhile, the Miss Universe Organization released the following statement about the situation via FOX:
The excitement of live TV was evident tonight on the Miss Universe stage with over 10 million live fan votes tabulated. Unfortunately, a live telecast means that human error can come into play. We witnessed that tonight when the wrong winner was initially announced. Our sincerest apologies to Miss Colombia, Miss Philippines Pia Alonzo Wurtzbach, their families and fans. We congratulate Pia Alonzo Wurtzbach as Miss Universe 2015.
Watch Harvey make the mistake in the video below, and then read his full apology.
I'd like to apologize wholeheartedly to Miss Colombia & Miss Philippines for my huge mistake. I feel terrible.

– Steve Harvey (@IAmSteveHarvey) December 21, 2015
Secondly, I'd like to apologize to the viewers at that I disappointed as well. Again it was an honest mistake.

– Steve Harvey (@IAmSteveHarvey) December 21, 2015
I don't want to take away from this amazing night and pageant. As well as the wonderful contestants. They were all amazing.

– Steve Harvey (@IAmSteveHarvey) December 21, 2015
Photo by Ethan Miller/Getty Images