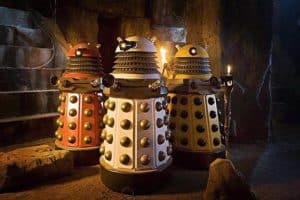 If there was one episode of Doctor Who's fifth series that was almost universally panned, it was the Mark Gatiss-penned "Victory of the Daleks," which was considered by many critics (including myself) to be one of the low points of the show since it began in 2005. The episode, which saw the redesign of the Daleks, was the third of the series. The redesigned Daleks did not reappear until the series finale, where one of them posed a threat to the Doctor and his companions in "The Big Bang." That story was well-done, in contrast to "Victory," and partially redeemed the Daleks. The race would go on to appear in the first Doctor Who Adventures episode "City of the Daleks," and in the upcoming graphic novel The Only Good Dalek.
It seems, however, that Moffat is holding the Dalek card for the show's sixth series. That's a strange choice, considering that the Daleks have been featured in at least one episode every season since 2005, and usually in a big way. Leaving them out of an entire series is a strange move on Moffat's part, but also probably a smart one. The Dalek's overusage in the series has led to them becoming less and less scary with each appearance — they were just silly in "Victory of the Daleks," after all.
I'm really looking forward to the new series of Who, and if this is any indicator at all, it seems that Moffat is learning from his past mistakes and is making series 6 the best yet. Count me in.