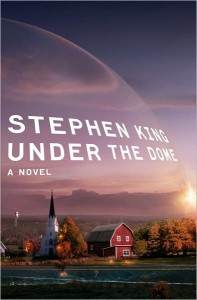 The two titans of fantasy will team up to bring the awe and wonder of both of their worlds to our television screen.
Variety just announced that Dreamworks TV will be producing King's latest 1,072 page tome, Under the Dome, for television. Earlier this week, we reported that the series would probably made for HBO, but the press release doesn't give a precise network, only that it will be a limited series and that it will be on cable. The two titans will be executive producers and will meet soon to hire writers and to get that side of the project in place before they shop the project to various cable networks.
Cross your fingers that it will be HBO! I don't think King just said that to be blow air. I think he wants it to be done right and that HBO is the only place for it.
King and Spielberg both have tried to get King's other work, "The Talisman" which King co-authored with Peter Straub, to be developed for the big screen. That project is on the back burner due to budget reasons, because you can't half-ass a Stephen King epic.
More on this as it develops!
Source: Variety