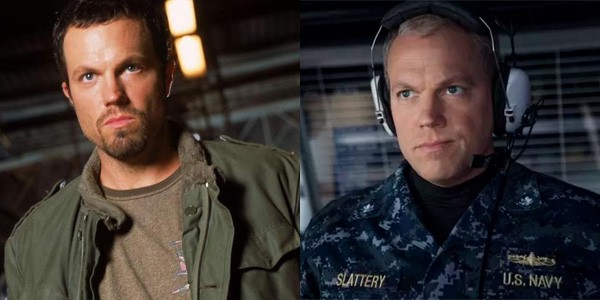 Adam Baldwin, no relation to Alec, William, Stephen, or Daniel, is another one of those actors that you've likely seen just about everywhere but not quite. His list of roles and accomplishments is pretty long and his storied career has lasted since the early 1980's when he was in the film My Bodyguard. More on that in a moment, but Baldwin has been one of the most solid actors throughout his career that has almost always been a supporting actor in some way and hasn't managed to be a lead quite as often. But for what he's done he's been absolutely brilliant since despite the stern look he continually wears it's helped him become one of the rough and tough protagonists in several projects and the despicable antagonist in many others. His presence in many movies and TV shows has been a boon since he takes a lot of the load on himself when it comes to the story line, at least when his character is asked to do so. Even when he has a minor part he nails it perfectly so that other actors don't have to pick up the slack. His intensity is kind of over the top at times but that's just a part of what makes him great since he's fully dialed in and aware of the moment.
Here are a few clips to prove that point.
My Bodyguard
In My Bodyguard he plays a troubled young man that has a past that only a few people know about, though everyone seems keen on creating rumors and gossip that paint him as a monster. Eventually the new kid in town makes friends with him in order to keep from getting harassed by another kid in town and his posse. Eventually the two become friends and learn how to stand up to people, which culminates in a street fight that's simply too good for words.
Full Metal Jacket
This is the kind of film in which he's just a straight up animal and goes on a berserker tear when he feels like it. He's the kind of guy in this film that seems to think he's invincible when he has a gun in his hand and doesn't need to respect much of anything. But given the type of film this is that makes a lot of sense considering that in Vietnam a lot of young soldiers went in more or less well-adjusted and came out messed up beyond belief.
Next of Kin
This is where he gets to be the detestable bad guy and he does an awesome job. It's so easy to hate him in this one that you can't help but let the emotion flow since he plays a true hardcase that thinks he's all that. The only trouble with that is that in the movie, messing with a band of country boys isn't the best idea since the city boys don't seem able to keep up with them with it comes down to a good old hunt.
Independence Day
As one of his supporting roles this was pretty solid since he wasn't in the picture too much but when he was he was there with a purpose. His entire role was to serve under the chain of command and do as he was ordered, but also to be the guy that was just one more person trying to survive and to help others do the same. He was kind of a jerk for a little bit but managed to redeem himself by the end of the movie since after all he and everyone else was trying to quell an alien invasion that was also in large part an annihilation.
Firefly
This is really one of the parts where he got to shine since he was a regular on the show and he got to play one of the toughest guys around. Jayne was the guy you just didn't mess with, and didn't really try to start a conversation with unless you wanted to end up confused by the end of the ordeal. He was just the right amount of rough and tough and was loyal to his crew so in reality he was the guy that you could depend on for maximum effort and firepower when it was needed.
The Last Ship
He gets to be the good guy again in this show and this time he even gets to be in command. The crew of the fictional ship, the USS Nathan James, are tasked with spreading a cure to as many people as possible in an effort to wipe out a plague that has struck from one continent to the next, wiping out massive numbers of people. Their adventures take them across the sea and land as they have to find a way to combat this problem, and others.
Adam has a very wide range of roles that he's taken on, and he's nailed them all perfectly.