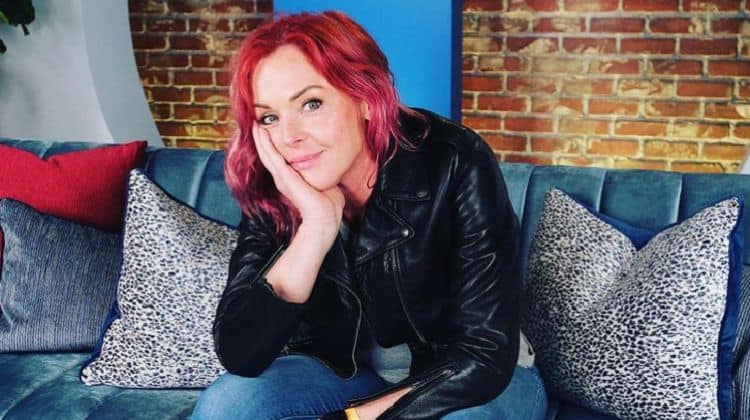 One of the coolest things about America's Got Talent is that it welcomes performers from all areas of the industry as well as people who are at different stages in their careers. Storm large is a prime example. Storm Large isn't a newcomer to the music world, but her career recently got a huge second wind thanks to AGT. Her cover of "I've Got You Under My Skin" on the show left everyone, including the judges, in awe of her talent. Not only does she have a great voice, but her stage presence is truly remarkable. Only time will tell if she has what it takes to win the season, but so far she's off to a very impressive start. Keep reading for 10 things you didn't know about Storm Large.
1. She Has Been Writing Songs Since Childhood
Music has been a big part of Storm's life for as long as she can remember. She started writing songs and singing when she was only around five years old and it quickly became clear that she was a natural. By the time she was in high school, she was taking her craft very seriously.
2. She Loves Being Outside
Storm Large is originally from Massachusetts, but she has lived in Portland, OR for many years. Portland is widely known for its natural beauty, and that's something Storm likes to take advantage of as often as possible. She spends a lot of time outdoors and loves gardening and going hiking.
3. She Has Theater Experience
Singing is Storm's first love, but she has also shown off her acting skills. She has gotten involved with theater several times throughout her career. Some of the plays she's performed in include Crazy Enough and Rid of Me. It's unclear if she plans to take on any more acting roles.
4. She Is Part Of The LGBTQ+ Community
Storm's sexuality is something she has been open about during her career. While most people would consider her to be bisexual, Elevated Difference once referred to her as "sexually omnivorous". Despite not being shy about her sexuality, Storm has been relatively private when it comes to her love life.
5. AGT Isn't Her First Competition Show
America's Got Talent isn't the only time Storm has put her skills to the test in a major talent show. In 2005, she gained a lot of attention as a contestant on the short-lived TV talent show, Rock Star: Supernova. Despite being eliminated near the end of the competition, being on the show was a great move for her career.
6. She Has A YouTube Channel
If you really loved Storm Large's performance on America's Got Talent, you'll be happy to know that you don't need to wait until the next episode to hear her sing again. She has a YouTube channel where she's posted several videos of her performances. To date, the channel has gotten more than 955,000 views.
7. She Almost Pursued A Career In Cooking
Even though Storm has loved music for her entire life, she almost reached a point where she was ready to give it up and try her luck at something else. In 2002, she went to culinary school and had plans of becoming a chef, however, a friend encouraged her not to give up on her music.
8. She Was On Ellen
Not only has Storm been on two competition shows, but she's also made some other TV appearances. In 2006, Storm Large appeared on an episode of The Ellen Degeneres Show following her time on Rock Star: Supernova. On Ellen, she talked about her experience on Rock Star and she also did a quick performance.
9. She Was In A Band
Many listeners are familiar with Storm as a solo artist, but she hasn't always performed on her own. She has been in several bands throughout the years including a group called Storm and the Balls which formed in the early 2000s. She currently performs with a band called Pink Martini, but she's also ready to give herself a chance to shine on her own.
10. She Is Very Family Oriented
From what we can tell, Storm is single and she doesn't have any children, but that doesn't mean that family isn't one of the most important things in her life. She has very close relationships with her loved ones. She is a very proud aunt and she loves spending time with her nieces and nephews whenever she gets the chance. Luckily for her, they all seem to be old enough to recognize just how cool she is.