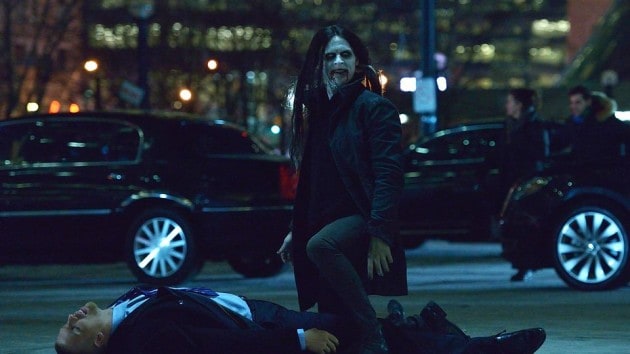 The Strain's utter lack of restraint is its gift and its curse: when harnessed correctly, its spaghetti-on-the-wall approach to stylized visuals and humor can be charming, in that Ed Wood, campy sort of way. Yet, its inability to hold itself back falling into the familiar patterns of most TV shows, trying to humanize its characters and build relationships, is where the show fails on a weekly basis (just mention the name Zach to anyone who watches the show, and look at their reactions). The Strain is supposed to be a show about vampires taking over the world – and yet, somehow it fails to register as an interesting show about vampires gaining power over New York, in a dystopian universe where it is the most isolated, ignored city on the planet. Ultimately, that case of mistaken identity is what holds The Strain – and in particular, episodes like "The Silver Angel" – behind, unable to turn any one of its rapidly-spinning wheels into something with real momentum.
There's suggestion of big things happening; Gus meets Angel, the star of the del Toro-directed opening sequence (itself an homage to a 1950s luchador short film), and Palmer has major financial heads of the world murdered in the center of city, right as Feraldo announces she's on her way to take back Red Hook. There's certainly a suggestion of movement in "The Silver Angel," with Fet blowing up the sewer and getting arrested, and the Feelers get a lot closer to Eph and Zach – and yet, an accelerated pace does nothing to liven up the living dead known as 'humans' on The Strain. In fact, the most interesting parts of the entire season are the flashbacks, which have revealed a big wrinkle in Setrakian's relationship with Eldritch Palmer (and Reggie's father)  – and those have taken up about 20 minutes of screen time (out of about 165), which is not a favorable ratio.
Without a believable reality and a reasonably relatable set of main characters, The Strain just falls apart. Instead of embracing the silliness of  ,introducing a luchador who fights vampires into the mix, much of "The Silver Angel" tries to play things straight, with Nora's emotional moments and the weekly Worst Scene of the Week, when Zach appears to be pissy and terrible at hitting a baseball set to 'medium' speed (the blocking in this scene is just terrible: Zach is so close to whatever is "pitching" to him off camera, the ball is above his head in mid-descent, when he should be swinging). And none of this works: what does work is Fet dicking around underground and causing trouble, or watching Nora and Eph follow around their test subjects to view some mild success, turning Eph into a Washington-charging, alcohol-sucking maniac hellbent on taking their plan from phase 1 to phase 5 in a matter of five minutes. Those exaggerated moments provide some humor and lightness not found in other scenes, when the hunt for Chekov's Ancient, Forgotten But Extremely Important Book dominates the proceedings.
The Strain's second season has improved in fits and starts over its predecessor, but there's still no consistency, be it with the characters, or how the show tries to actively engage the audience with them. There isn't even a lot of empty visual spectacle to enjoy: we've seen the 'suicide drop' before with supernatural characters on TV in 2015, and it was a whole lot more dramatic on Game of Thrones then it is here – and "The Silver Angel" doesn't have much else to offer in the way of visual panache once the opening short film was out of the way. Add in an increasingly ineffective, undramatic set of vampires chasing the main characters, and it's no surprise "The Silver Angel" falls apart with the slightest tug at any of its silly, often ridiculous holes. Hopefully, the impending introduction of The Master's son (teased by del Toro before the season in interviews) will give this season some much needed life, both when it comes to the external stories, and the characters trying to operate and survive within them.
[Photo via FX]