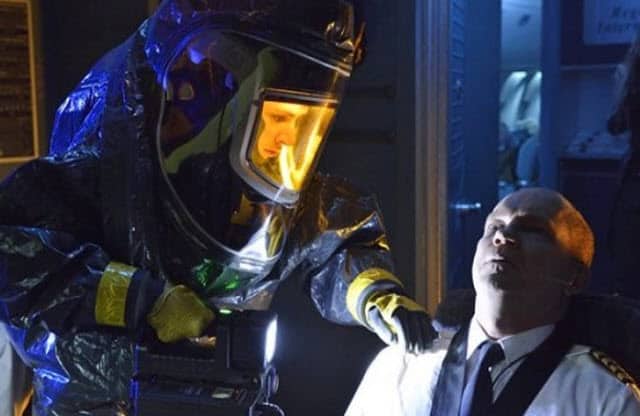 When FX originally announced plans to bring Guillermo del Toro and Chuck Hogan's The Strain novels to television, it instantly became one of 2014's most anticipated new shows. Sure, the vampire craze was nearing its end, but the news of Guillermo's creative mind (especially when it came to the unsettling supernatural – remember Pan's Labyrinth?) behind the helm was an exciting thought.
And then the casting news started coming in, led off by Corey Stoll as protagonist Ephraim Goodweather, following up his strong supporting turn in House of Cards' first season. Soon, he was joined by David Bradley, Kevin Durand, Sean Astin, Mia Maetstro, and Jonathon Hyde… not a mind-blowing cast, but a solid collection of character actors that would no doubt benefit from del Toro's visual mastery and LOST's Carlton Cuse helping steer the ship as Executive Producer.
However, what aired this summer was not an exciting new vampire series: from "Night Zero" to "The Master", each of The Strain's first thirteen episodes was a major disappointment, a series that quickly devolved from anti-viral investigation into silly, B-grade vampire shlock. Silly wigs (Corey Stoll looked ridiculous in every scene with his hair piece), horribly stupid minor characters, a horrible, self-serving human for a protagonist… it wasn't long before The Strain's many, many flaws began to pull it apart at the seams. For a show purported to be an interesting, modern vision of vampirism as a virus, The Strain was pretty toothless a drama, devolving into petty bickering and vague, Nazi-themed flashback sequences as the show carried on.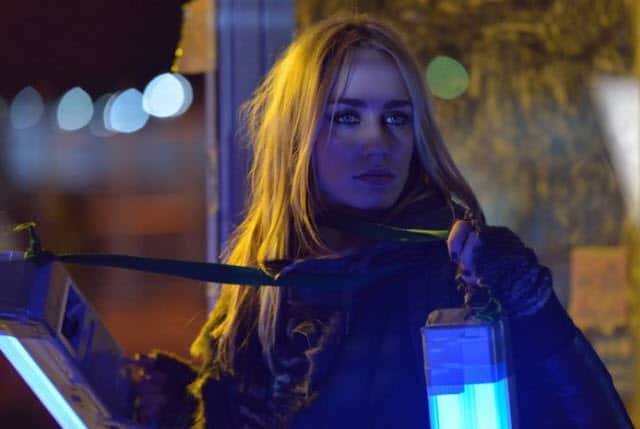 And that's not even mentioning the female characters of the show: whether Nora, Kelly, or Dutch, The Strain seemed incapable of writing women who didn't exist to serve the men in their lives (even Dutch, who was presented as a lesbian, develops "feelings" for Fet in the season's back half). Nora was a wimp, a woman who dragged her Alzheimer's addled mother around while she spent her days listening to Goodweather (the man she was in love with) talk about how much he cared about his ex-wife – in one episode, literally moments before sleeping with Nora in his ex-wife's bed. Throw in Kelly the non-character (who just can't get life right, because she won't let a narcissistic, pathological alcoholic around her son anymore) and Dutch the easily-persuaded, and you've got arguably the poorest collection of major female characters on any scripted drama not airing on Lifetime.
Beyond that, the show's characterization problems continued with minorities: with black actors only appearing as stupid thugs, and a season-long thread where a Mexican gang banger fills every single Latino stereotype the writers could think of, The Strain's grip on character was often questionable at best. More so, the show never figured out anything interesting to do with these characters as New York fell victim to a vampire plague (something nobody in the city seems to notices is happening until the final three episodes) except chase down The Master, who may be the most ridiculous looking on-screen villain in television history. Forget just how awfully familiar The Master's facial design is (hint: it's black face): from the comically oversized fingers and lips to the vampire's massive stature (when no other vampire is anywhere near that size) and pointed ears, and you've got one of the ugliest characters ever to grace the screen, a collection of makeup that would nicely among the many low-budget supernatural shows The WB aired at the turn of the century.
However, with a terribly thin story, horribly written (and often downright racist and sexist) characters, and one of TV's most laughably bad antagonists, The Strain was still able to procure a second season (though with FX President John Landgraf saying the show would last "39-65 episodes", it's not really a surprise), ensuring that next summer, we'll all get to feel the wrath of The Master again (and probably sit through a lot of pointless scenes with Zack, whose character also suffers from Kid Actor Syndrome)when the show returns for another thirteen episodes. Could the show get better? Sure – but without a complete overhaul of identity, The Strain's going to be remembered as one of the most disappointing shows in recent memory.
Photos via FX