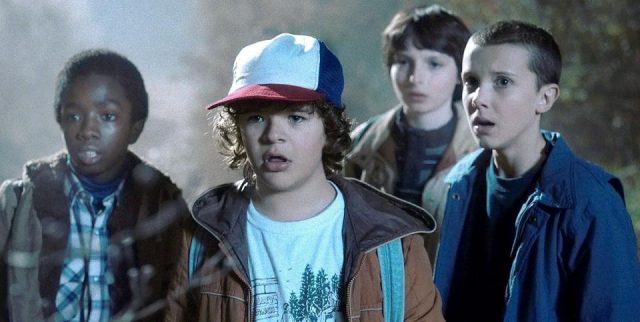 From the moment the kids of Stranger Things stepped onto the red carpet last night, you had a feeling that the show was in for a big night.  And you just have to figure the night would be capped by Winona Ryder's official return to the spotlight.  Crowds roared when the children's ensemble entered the awards and that seemed to carry through right to the point where the show won an award for best ensemble cast.   In a lengthy speech David Harbour said:
"In light of all that's going on in the world today, it's difficult to celebrate the already celebrated 'Stranger Things," said the show's David Harbour, accepting the award for best TV drama series ensemble on behalf of 15 fellow cast members heavy on teens.
In a lengthy speech that reflected the evening's consistently activist tone, Harbour suggested that people follow the lead of his lawman character and "punch some people in the face when they seek to destroy the weak and the disenfranchised and the marginalized."
Macy's win as best TV comedy actor came despite Tambor's hefty awards haul for his portrayal of a transgender character, including last year's SAG trophy, two Emmys and a Golden Globe.
"I'm shocked. I'm probably not as shocked as Jeffrey, but I'm pretty shocked. I would like to go against the strain this evening and thank President Donald Trump for making Frank Gallagher seem so normal," the actor said, referring to the reprobate dad he plays in Showtime's "Shameless."
As far as the rest of the evening was concerned it was mainly a night for actors to use airtime to talk about Donald Trump's recent immigration ban.   Julia Louie-Dreyfus, who won best TV actress for her role in Veep got serious for a moment referring to herself as an immigrant's daughter and Patriot and said t"his immigrant ban is a blemish and it is un-American."
Other big winners of the night included Bryan Cranston for playing Lyndon Johnson, Sarah Paulson in American Crime Story, and "Orange is the New Black" for best ensemble in a comedy series.  All in all it was a very big night for Netflix who has proven to be more than just a streaming company.  The behemoth has manage to produce some quality shows since it's turn to creation in addition to distribution.  The network is proving to be a powerhouse and the SAG awards proved it last night.