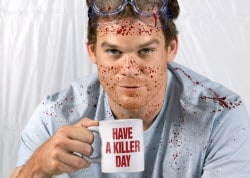 With HBO Go allowing subscribers to access all that channel's content in an almost unrestricted fashion, many Showtime subscribers have been complaining theirs new equivalent service for that channel. That's changing, sort of.
Showtime has just struck a deal with Amazon Lovefilm, their UK and Germany-based streaming service. It will allowed their subscribers to have access to a host of Showtime shows including Dexter, Nurse Jackie and Californication. The deal also includes a host of CBS programs like The Good Wife, Blue Bloods and more.
To be clear about what this is, Lovefilm is indeed available only to UK and German customers right now, so we're out of luck here in the States. At one point Dexter was indeed streamed in the US on Netflix, but a variety of deals have pulled the show from the service, and there's no indication it's coming back any time soon.
Additionally, it should be noted that this is NOT like HBO Go, as it will only be past seasons of these shows that are posted, not current ones. HBO may air the new Game of Thrones the second it's airing on the channel, but this isn't that kind of service.
It worries me that streaming services are becoming even more fractured and restricted about the type of content that's allowed on them through endless deals with channels and networks. It's really hard for a person to get a cohesive experience without subscribing to a host of services or living in a specific country at a specific time. The industry has a lot of streamlining ahead of itself.