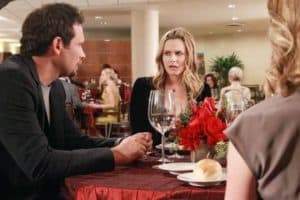 You may recognize Suburgatory star Jeremy Sisto from a 1990s teen movie: Clueless. At the time, he played douchebag Beverly Hills student Elton, the crush of Alicia Silvertone's character, Cher. At least, he was her crush until she realized he was a douchebag and ended up with Paul Rudd's character instead.
In the April 18th Suburgatory, Alicia Silverstone makes a special gust appearance as a woman named Eden. She catches George's eye at the Chatswin Farmer's Market and he's immediately attracted to her, particularly her healthy eating habits. But will a dinner with Noah and Jill turn her off George completely?
Meanwhile, Yakult ends up missing and Tessa and Dalia frantically try to locate the missing dog. But is Mr. Wolfe a dognapper who is responsible for Yakult's disappearance?