[FLOWPLAYER=http://www.tvovermind.com/wp-content/uploads/2013/01/sub-212-1.jpg|http://www.tvovermind.com/wp-content/uploads/2013/01/SUB212_fv1.h264HD-Clip1.flv,440,280]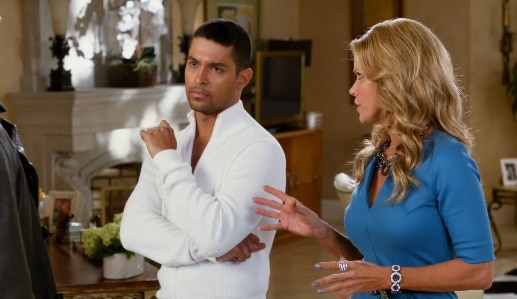 Thus far this season on Suburgatory, George and Dallas have had to deal with a multitude of early relationship issues that have tested the limits of their commitment to one another. Getting together in the first place was a feat in itself, as the two had to put past heartache aside in order to embrace potential happiness; interestingly, this has been a benefit and made the problems that have come up since (differences in parenting, different ideas about how quickly their relationship is progressing) much easier to deal with. But how would George and Dallas deal with an ex coming back into the fold, even through fairly legitimate means?
Granted, George's ex-wife has already appeared on the second season of Suburgatory, but the two hadn't seen one another in many years and there were no residual feelings to speak of on either side. Now, though, Dallas will be inviting new age guru Yoni back into her life – to help Yakult's anxiety. Be it from having to protect a large home, getting used to having another man in her life, or dealing with the rivalry with Dalia, Yakult needs something to get her out of the funk that she's been in and calm her nerves. While George suggests putting her in an unlocked cage, Dallas sides with Yoni, who quickly bans George from being around the dog before going to the country club to flirt with many of Chatswin's desperate housewives.
George trusts Dallas and has since the beginning, but he doesn't trust Yoni and he'll have to prove that the smooth operator has more on his mind than bringing peace to Yakult. Will Dallas listen?
Elsewhere on Suburgatory, Lisa wants to get back into the dating world following her break-up with Malik and turns to Tessa to help find her someone to go out with. The two end up going on a double date, but who could Lisa's mystery man be? What if it's someone we've met before?
Suburgatory airs tonight at 9:30 on ABC. You can check out a recap of last week's episode here.
What will be the thing that ultimately soothes Yakult's anxiety? Will George let his insecurity over Yoni hurt his relationship with Dallas? How will Tessa and Lisa's double date go?
[FLOWPLAYER=http://www.tvovermind.com/wp-content/uploads/2013/01/sub-212-2.jpg|http://www.tvovermind.com/wp-content/uploads/2013/01/SUB212_fv2.h264HD-Clip2.flv,440,280]