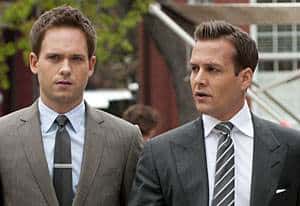 We were left with a gigantic cliffhanger last season when Mike's friend Trevor stopped by to talk with Jessica. Did he drop the bombshell that would ruin his friend's life? If you haven't been watching, and for shame on you, Mike is the best damn attorney without a law degree you'll ever find. But law firms really do like those pesky degrees, and that's why he made such a nice living out of taking the LSATs for others who didn't have the guts to take it themselves.
Through a series of miscommunication and good timing that only a screenwriter could dream up, Mike Ross and Harvey Specter found each other and a unique and wonderful partnership was born. Their alliance brings with it incredible risk for both parties by keeping the secret that Mike isn't a lawyer. During season one, there was little downside as Mike's knowledge and willingness to do just about anything to get results complemented Harvey's endless desire to win and stand up for the face of justice. They are close to a superhero and his sidekick as you will find on television, and their suits are of the business variety.
Despite the title of tonight's episode, "She Knows," we're left wondering Jessica does know, and what it would mean to both Harvey and Mike. She's all business, but she knows when to let things slide. Is the secret identity of Mike too big to slide? Would she go so far as to fire Harvey for bringing Mike on if she did know? The synopsis of the episode asks how far Harvey will go to keep the secret, leading me to believe Trevor wasn't ready to turn the knife in his friend's back just yet. It will create a completely new world for Mike knowing how far Trevor is willing to go to hurt him for his relationship with Jenny. Will that door close, leaving the door to Rachel wide open?
Okay, okay, jumping the gun worrying about Mike's love life when his very life and a prison term could hang in the balance, but you know you're wondering about Rachel, too. While we're talking about women, an answer to the can opener ritual between Harvey and Donna should be on tap as well. As soon as they cover their tracks and bury that pesky secret.
Be sure to tune in to USA Network tonight for the Season Two premiere of Suits at 10/9c!