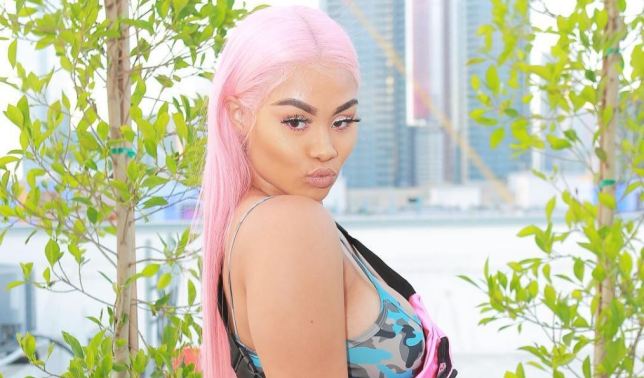 Considering the circumstance and her occupation, Summer Bunni is one unusual celebrity to have as a topic for one of our '10 Things' lists, but here she is. Touted as being an Instagram model and mistress, Summer Bunni gained famed through her involvement with Offset, who happens to be the husband of singer Cardi B. It seems that Summer was the mistress, or nanny, of the child, but somehow became involved with Offset while on the job, which created much publicity and drama, of course. So, let's take a look at Summer Bunni and learn what we can about her life. Where did she come from, and what did she do before she got where she is today? Well, we're gonna come up with the best answers we can, and just for you. So read on to discover more about Summer Bunni, her history, what she's doing today, and what we can expect from her in the days to come.
1. The Texts
While Summer was the 'appointed' mistress of Cardi B's child, Kulture, she was sharing texts with Offset, husband of Cardi B. A friend leaked the messages to the press, resulting in public knowledge of them, which of course means that Cardi B gained knowledge of them as well. Cardi revealed shortly thereafter that she was in the process of separating from Offset.
2. Apologies
Summer subsequently gave profuse apologies for being involved, and for being the 'reason' that the pair separated. She claims that their separation is the last thing she wanted. In fact, according to Dreshare, she shared a video of apology on Instagram to the couple, who happened to get married in secret in 2017.
3. Future Personal Goals
While she gave an apology to the couple and their family unit, it is unclear whether they have chosen to forgive her or not. Regardless, she wishes the best for them all, and has told countless sources that she aims to be a better person in the next year. This tells all of us that what she did, as far as accusations toward Offset, were meant to cause a level of trouble, and that she regrets the move. We can hope that she meets this future goal she has set for herself. Let's take a look at some more personal aspects of her life.
4. Birth and Childhood
Born November 4, 1998, Summer Bunni was born in Texas, and it is said she attended a private school while growing up. She is a Scorpio. Though not much information has been divulged about her parents or siblings, Gossipgist tells us that she was raised in a Christian household, which likely contributes to her feelings of guilt and the apology she gave to Cardi B and Offset for the circumstances that caused so much publicity.
5. Instagram Facts
While she was the nanny of Cardi B and Offset's daughter, she was also an Instagram model, meaning that she did a lot of posing for Instagram, some which actually brought earnings her direction. Regardless, the result of the 'modeling' was that she gained 45k followers, which is not bad. But considering the fact that Instagram is a site built for sharing photos, well, we shouldn't be surprised. It is said that the scandal with Cardi B's family is expected to bring even more followers to the young woman as well.
6. Her Nicki Minaj Association
Many are aware that Nicki Minaj and Cardi B are considered to be enemies…at least, to an extent, they are. But the fact is that Summer Bunni is also associated with Minaj, which has led to much speculation regarding how much of her affair with Offset wasn't something of a setup. How does she know Nicki? As it turns out, she was in Minaj's video 'FEFE', in which she is noted for eating whipped cream, and rumor has it that Nicki provided a private jet for a flight for her to fly from LA to Vegas. According to Hollywoodlife, she even tagged Minaj when she boarded that jet.
7. More About Modeling
It seems that Summer has done more modeling than simply that of the Instagram account she has been credited with. It is said that as a child and youngster, she also did some mainstream modeling as well. On December 6, 2018 (one year ago), she posted 'throwback' pics of modeling gigs she had back in the day with Gerber and JC Penney. So, the fact of the matter is that Summer has had some legit experience in modeling.
8. Net Worth
We know that most celebrities are able to boast fairly high net worths, in the multiple thoughsands, tens of thousands, hundreds of thousands, and more. After all, isn't that the reason most get into the business, if they don't have an inherent love for the art? Well, we can guess this is likely the reason that Summer got involved with Cardi B and Offset; if not for the job, at the very least, for the publicity, but the effect has been less than ideal when it comes to her bank account. According to Walikali, her net worth sits at a mere $5k, which is not what one would expect from someone who has brought so much attention to herself. It seems that she should have chosen another route to take, unfortunately.
9. Zodiac and Star Sign Traits
As we mentioned earlier, Summer was born November 4, which makes her a Scorpio. The Scorpio female is sexy, but dark and moody. It is an unusual sign filled with drama, and it is a sign that can be hard to put into written word. It is said that those falling under this star sign can sometimes be considered legitimately scary by the things they do and the behaviors they are prone to exhibit. In many ways, they are the most human of all zodiac signs in that they tend to savor their emotions, rather than being indifferent to them. It is said they actually like the intensity of emotions, which explains a lot when it comes to this particular person.
10. The Plot That Broke the Camel's Back
Sources say that it wasn't just the affair that disrupted Cardi B's marriage to Offset, but a plot to have a threesome between him, Summer Bunni, and Cuban Doll. It should be noted that Cuban Doll was the source that leaked the texts between Offset and Summer Bunni to the people that mattered, by the way. So maybe the 'setup' was more than just a one-way gig.
Well, there really wasn't much to say about Summer Bunni, at least, not as far as personal life and such. What we can say is that they young lady made some decisions that she likely feels pretty bad about, and now they will have to be lived with. With all of that being said, we genuinely hope that the next year proves different for this young lady, and that she is able to rectify her mistakes and get back on the proper track when it comes to her dreams for herself. Good luck to her.