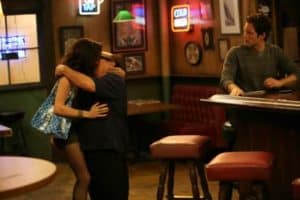 Listen up, Jibroni's. It's time again to start a new season of It's Always Sunny In Philadelphia, and boy did the gang kick off season 7 in the craziest way I have seen yet. This episode had a lot to make up for after last seasons run of not so great episodes. So why don't we don our Green Man suits and dive head first into this review.
First thing that I (and I am guessing everyone) noticed about the episode was the addition of Fat Mac (Rob McElhenney). Fans of the show have known Mac to always strive for toned muscles, or at least the glamour one. Seeing Mac gain 50 lbs was not only a shock to fans but it seemed to shock the characters on the show. Of course his weight lead to some really good humor. Who couldn't resist laughing at the garbage bag filled with Mexican food. I can only hope that jokes about the new Mac won't grow stale during the season.
While the entire episode could have been centered on Mac's weight gain, the real meat of the episode came from Frank (Danny DeVito) and his 'Who-ore" girlfriend. Frank has been known to have some crazy partners in the past but, I think this new one takes the cake. Roxy (Alanna Ubach) has so many crazy quirks that just being a regular prostitute would have been a horrible mistake by the writers and also would have made the story dull. Thankfully the foul-mouthed, crack addict, raspy voiced woman is the one prostitute Frank wants to marry. Of course though this is It's Always Sunny so you know there is going to be a few hitches in this plan. Whether it be Charlie's (Charlie Day) attempt to get Frank a new girlfriend and in turn fail miserably, Sweet Dee's (Kaitlin Olsen) decision to live her life like Roxy, Dennis' (Glenn Howerton) and Mac's attempt to get crack from Roxy, or the biggest hitch, Roxy dying of what appears to be a heart attack brought on by her addiction, It's Always Sunny did all it could to stop Frank from making a decision that would ruin his life (well more than it has been ruined).
Before I hand out a grade, I want to try a little something out. I like to think of it as a "What I Learned From The Gang This Week" section. Here is what I learned this week:
– It's much easier to carry food in a garbage bag than in a normal fast food bag.
– Just because you have a red polo, black shirt and black ball cap, it doesn't mean you are "The" Tiger Woods.
– Humming Birds are an exercise and not just a bird.
– It's pronounced Di-i-bitis.
– Swallowing fake blood capsules can lead to no good.
– Tommy Bahama shirts are not only stylish but they hide and unwanted fat.
– To avoid any legal trouble, just leave dead hookers in the hall.
Well there you have it folks, the first episode is in the bag and boy was this episode a great way to start the season. It seems that the show is finally getting back to its roots comedy wise and we can hope that future episodes continue this trend. A
So what did you all think? Love it or hate it? Be sure to sound off in the comment section below with your opinion.