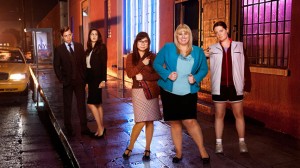 Even the most guarded of social outsider can yearn to break free of their insecurities and go after the life they want. But is it worth doing if you have to shed your few pre-existing social connections?
Junior attorney Kimmie Boubier (Rebel Wilson) and her two best friends, Helen-Alice (Liza Lapira) and Marika (Lauren Ash), have had a standing date every Friday night for the last 13 years. They even have a motto for what they call "Friday Night Fun Night": "Always together! Always Inside!" However Kimmie's recent promotion throws a monkey wrench into the tradition. Not only is she now working with her idol, "Lady Lawyer of the Year" Felicity Vanderstone (Kelen Coleman), but she meets a dashingly handsome British attorney, Richard Lovell (Kevin Bishop), who invites her to his party at a trendy club. Determined to spend time with Richard and heed Felicity's advice to network, Kimmie sets out to convince her friends to take Super Fun Night on the road.
Super Fun Night stars Rebel Wilson (Pitch Perfect, Bridesmaids) as Kimmie, Lauren Ash (Lars and the Real Girl) as Marika, Liza Lapira (Don't Trust the B—- in Apartment 23) as Helen-Alice, Kelen Coleman (The Newsroom) as Felicity, and Kevin Bishop (Star Stories) as Richard.
Super Fun Night was written by Rebel Wilson who also serves as co-executive producer. Executive producers are Conan O'Brien, Jeff Ross, David Kissinger and John Riggi (30 Rock), who also directed the pilot. Super Fun Night is produced by Bonanza Productions Inc. in association with Conaco and Warner Bros. Television.
Super Fun Night is set to air Wednesdays at 9:30. You can check out ABC's 2013-2014 schedule here.
Will you be watching Super Fun Night? How does the trailer make the show look? Do you think the show will mesh well with Modern Family?
[cf]video_one[/cf]