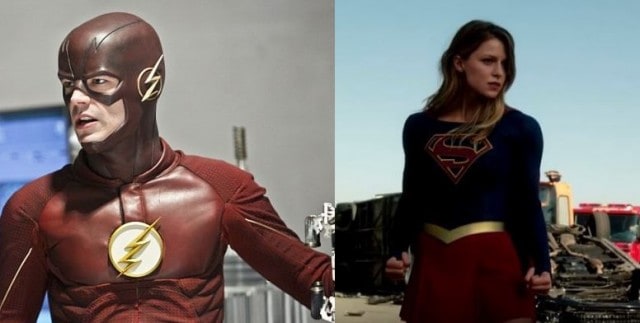 DC Comics fans, get ready: Kara Danvers will soon be meeting Barry Allen. It was officially announced today that a Supergirl and The Flash crossover will officially be happening this year on CBS.
The announcement was made by Greg Berlanti and Andrew Kreiseberg, who serve as executive producers on both series, and although not story details have been revealed yet, we do have an official date for the crossover. The Flash and the Girl of Steel will join forces in a Supergirl episode that is slated to air on Monday, March 28.
"We are so incredibly excited to announce something that we have dreamed of happening since we starting making Supergirl," Berlanti and Kreisberg said in a statement. "We want to thank Grant Gustin for making the time to come visit (on top of his already immense workload) and all of the folks at CBS, The CW, Warner Bros. and DC for working this out. And finally, thanks to the fans and journalists who have kept asking for this to happen. It is our pleasure and hope to create an episode worthy of everyone's enthusiasm and support."
If you're a fan of both shows, how excited are you that Supergirl and The Flash crossover is now official? What are you hoping will happen in the episode? Comment below and let us know.
[Photos via CBS & The CW]