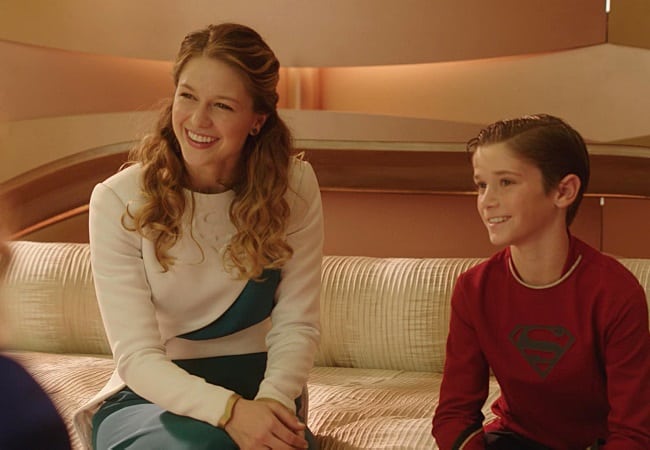 After the big cliffhanger last week on Supergirl, tonight's episode will pick up right where we left off as Kara Zor-El gets taken over by the parasitic alien known as Black Mercy. The 13th episode "For The Girl Who Has Everything" is an adaptation from the famous Superman storyline "For The Man Who Has Everything" and in the version that the Girl of Steel will be going through. Kara will be trapped in a dream world where she is back on Krypton with her family.
The episode will also feature a young Kal-El in a world where Krypton didn't get blown up and will be played by Daniel DiMaggo and this will mark the first time that Kara is seen next to Superman on the show! Well, at least a teenage version of him, but at least it's something. CBS has released a promo as well as a preview clip featuring the return of Non and Astra, played by Chris Vance and Laura Benanti.
"A PARASITIC ALIEN TRAPS KARA IN A DREAM WORLD WHERE HER HOME PLANET WAS NEVER DESTROYED, ON "SUPERGIRL," MONDAY, FEB. 8 Â -Â "For The Girl Who Has Everything" — Kara's friends must find a way to save her life when a parasitic alien attaches itself to her and traps her in a dream world where her family is alive and her home planet was never destroyed. Also, Alex, Hank and the DEO must fend off a Kryptonian attack while Kara is out of commission, on SUPERGIRL, Monday, Feb. 8 (8:00-9:00 PM, ET) on the CBS Television Network.
REGULAR CAST: Melissa Benoist (Kara Danvers/Supergirl), Calista Flockhart (Cat Grant), Chyler Leigh (Alex Danvers), Mehcad Brooks (James Olsen), David Harewood (Hank Henshaw) and Jeremy Jordan (Winslow "Winn" Schott).
RECURRING CAST: Peter Facinelli (Maxwell Lord), Laura Benani (Alura/Astra), Chris Vance (Non), Robert Gant (Zor-El)
GUEST CAST:Â Daniel DiMaggio (Kal-El)
STORY BY: Andrew Kreisberg, TELEPLAY BY: Ted Sullivan and Derek Simon
BASED ON: The Characters Appearing in the DC Comics, DIRECTED BY: Dermott Downs"
"
https://www.youtube.com/watch?v=OXnnuDeVpWg
Catch Supergirl on Monday nights, 8/7c on CBS.
[Photo: Darren Michaels/Warner Bros. Entertainment]