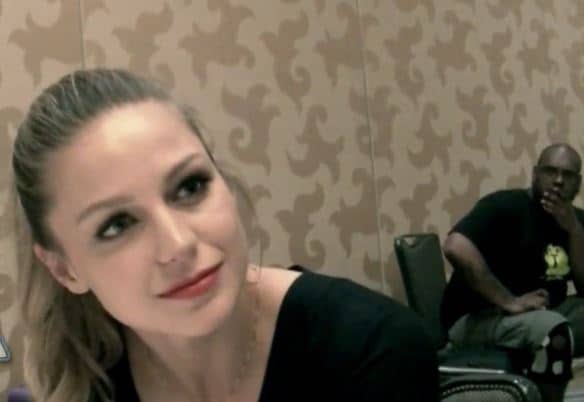 One of the most anticipated new shows of the 2015-2016 TV season is CBS'Â Supergirl, the story of Kara Zor-El, who decides after several years of hiding her abilities to step into the light and become National City's own protector. Playing the iconic character of Kara/Supergirl is the talented Melissa Benoist (Glee).
TVOvermind was fortunate enough to participate in Supergirl Press Room at San Diego Comic-Con with other news outlets at roundtables where stars and producers from the show discussed what viewers can expect from the new show. Benoist was one of the people we got to talk to, and you can watch her entire roundtable interview below. Here are some of the highlights:
When asked what she has loved discovering about Supergirl through her portrayal and the comics: "What I love about Kara is that she is in this process of discovering herself. I look at it as a coming-of-age story. I love when she finds her strength and when she owns it. Those are my favorite parts to play when she has no fear."
What it is like for her to get to play a big role model like Kara/Supergirl: "I look at it as such a privilege and responsibility to show people that you have strength and can be a strong woman. Â I think so often these days, it's kind of assumed that if you are strong and powerful, you are not the nicest person, but maybe you are a bad person. But with this I want to show girls that you can spread positivity and hope through your strength."
Supergirl begins on Monday, Oct. 26, at 8:30 p.m. on CBS. Stay tuned for more roundtable videos of the cast and producers in the next few days right here at TVOvermind.
[Photo via YouTube]