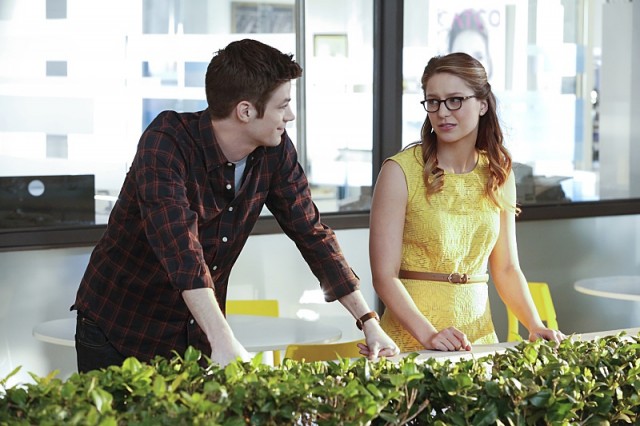 Not only was last night's Supergirl–Flash crossover a terrifically fun hour of television for fans of both superhero dramas, but it was also a major success for the CBS series, which has somewhat been struggling in the ratings lately. Thanks to the presence of Grant Gustin's Barry Allen, the Supergirl-Flash crossover helped give the show a major ratings boost, after four straight weeks of declining numbers.
Last night's Supergirl drew 7.24 million total viewers and 1.7 rating in the 18-49 demo. Those numbers are up 21 and 31 percent from the CBS drama's last episode. Additionally, Supergirl led all of Monday night's scripted programs in the demo and hit a four-week high in total audience while also garnering its best demo numbers since its Feb. 8 episode.
Critical and fan reaction to the Supergirl-Flash crossover has been incredibly positive, as viewers really seemed to enjoy the chemistry between Melissa Benoist and Grant Gustin and the humor and heart that Barry's visit to National City brought to the show. Greg Berlanti and the rest of the creative teams behind Supergirl and The Flash have already teased that there could be future crossovers between the two shows and perhaps even a triple-crossover with Arrow at some point down the line as well. Now that would be pretty super, wouldn't it?
What did you think of last night's Supergirl-Flash crossover episode? Comment below and let us know. 
[Photo credit: Robert Voets/Warner Bros. Entertainment Inc.]