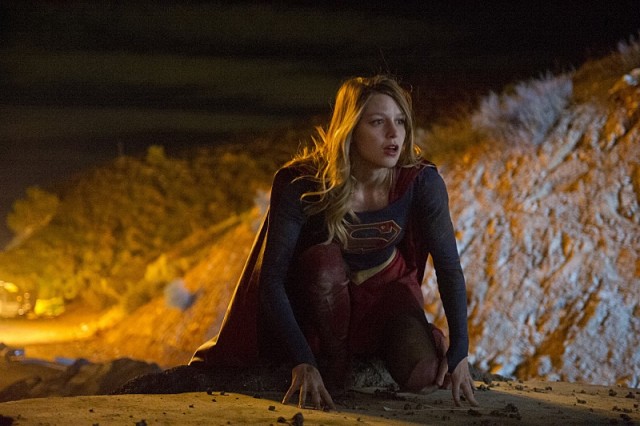 After months of anticipation, Supergirl finally debuted Monday night on CBS, and the show's premiere ratings, especially compared to the rest of this fall's dismal numbers, were pretty super indeed. With a Big Bang Theory lead-in (Big Bang will now move to Thursday nights, as Supergirl takes over the Monday night, 8 p.m. time slot next week), Supergirl opened to 12.9 million total viewers and a 3.2 demo rating.
Those numbers make Supergirl this fall's No. 1 series debut. Here are the premiere numbers for this fall's other new series for comparison:
Blindspot (NBC): 10.6 million/3.1 (with The Voice as a lead-in)
The Muppets (ABC): 9 million/2.8
Life in Pieces (CBS): 11.3 million/2.6 (with Big Bang Theory as a lead-in)
Rosewood (FOX): 7.5 million/2.4 (with Empire as a lead-in)
Heroes Reborn (NBC): 6.6 million/2.1
Quantico (ABC): 7.9 million/1.9
Limitless (CBS): 9.9 million/1.9 (with both NCIS series serving as a lead-in)
Scream Queens (FOX): 4 million/1.7
Code Black (CBS): 8.6 million/1.5
Blood & Oil (ABC): 6.4 million/1.4
The Player (NBC): 4.9 million/1.2
Minority Report (FOX): 3.1 million/1.1
Supergirl stars Melissa Benoist, Mechad Brooks, Chyler Leigh, Calista Flockhart, David Harewood, and Jeremy Jordan. Our very own Andy Behbakht loved the premiere and gave it nine out of ten stars. Check out his review right here.
Supergirl airs Mondays at 8 p.m. on CBS.
[Photo via CBS]