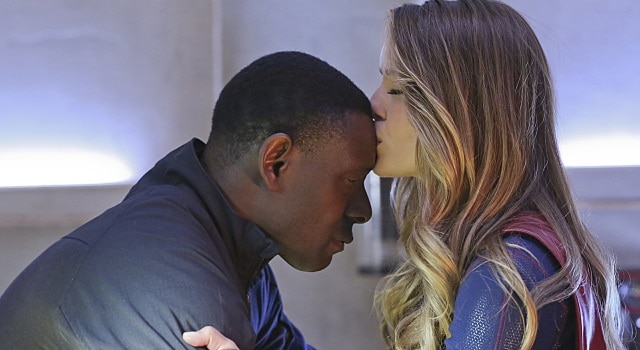 After a long journey in her first year as a superhero, the season finale of Supergirl brought everything together as Kara Zor-El faced her biggest challenge with Non and Indigo unleashing an even more powerful weapon on the humans.
If there was one thing that the finale let me down on, were some of its pacing issues with several big action scenes as well as resolutions to the problems that Kara and her team were facing. Before I go on; this is a minor nitpick as the pacing didn't decrease the quality of the finale itself, at least not by a lot. To begin with, the big fight between her and Alex (under Myriad's control) was definitely an impressive fight, but it was over fast as the episode just started. I did appreciate that Eliza was able to get through to her, and I was really terrified for a moment that Alex would kill her, but thankfully, we didn't have to see the 1st Supergirl be killed off. Within the first ten minutes of the episode, the Myriad problem is taken care off by hopeful and inspiring words from Kara as it was being broadcasted over the whole city.
As powerful as her words were, a part of me couldn't help feel that it may have been a bit too easy. However, I'm willing to suspend my disbelief because let's remember that we are watching a comic book show about an alien from another planet with extraordinary powers. It would have been a bigger issue if there hadn't been a follow-up threat from Myriad, but thanks to Non and Indigo, a bigger attack was prepared, which we will get to later. I never thought that Kara would actually end up dying, but I will admit that during those farewell speeches to Winn, James, Cat and J'onn, a part of me was starting to think that maybe we were about to witness the death of Supergirl. Benoist has delivered some amazing performances throughout the season, but her work in the finale, was the ultimate episode that shows us why she was born for this role. Whether it was giving the city that speech or her saying farewell to the people in her life, it was beautifully delivered and makes me just appreciate this hero more. It is hard to just pick one moment or speech because each and one of them were equally powerful.
We get a visually amazing finale battle between Supergirl and J'onn versus Indigo and Non, which thankfully had a balanced pacing. As I have said before, seeing Vandervoort in this role has been a blast for each appearance that she has done. While J'onn did rip her in half and we saw her go offline, I highly doubt that this is the last we have seen of her, at least I hope so because they can do so much more with Indigo in future seasons. The battle between Non and Supergirl was chilling because based on the trailer that we got last week: I was almost convinced that Kara would end up killing Non. I'm actually not sure how to take that final shot of Non because you could still hear him breathe, but his eyes looked like they were just burned off or that they got affected in some way. While I don't need to see him again any time soon, leaving the door open for him to come back in some villainous capacity is a good choice.
Kara's big heroic act is something that I both loved, but also was really confused about as a Superman and comic book fan. As there aren't any other options to take Fort Rozz down, she decides to fly it out to space, which was oddly a problem. In most comics, TV shows and films that I have seen with Superman or even Supergirl for that matter, whenever we see them in space, it has always seemed that they can actually breathe in space because, well, they are Kryptonians. So while I was busy crying my eyes out as Kara and Alex were saying goodbye to each other, I was also scratching my head wondering if I have simply just missed interpretations of these characters when they actually have to hold their breath for a very long time while being in space. Â I guess it will just be intriguing to see how they deal with it in future seasons when she has to fly out to space and whether she will either find out that she can hold her breath really long or something like that. It was also beautiful and funny (in a good way of course!) that we saw Alex fly out and save her by using Kara's pod.
We get some quick, but very sweet conclusions as well as teases for several characters as the Martian Manhunter is cleared of all charges, Lucy gets to keep her position as the director of the D.E.O., which pretty much hints at Jenna Dewan-Tatum being promoted to series regular for the second season while we also get a little mysterious scene between the general and Maxwell. Kara gets a promotion by Cat in one of the best scenes those two have had, although I was really hoping she would tell Cat her secret. As Kara gets ready to celebrate with her loved ones, we of course get a new big mystery as a Kryptonian pod lands on Earth and we are left screaming at our televisions "who is it?!" as the episode cuts to the credits. While a lot went down in those final moments, which was another point where the pacing was a little off, I'm glad that we got a happy ending while also the tease to what is to come.
Overall, as a season one finale, "Better Angels" was for most parts very solid as a lot of the big story arcs that we got in this first season were concluded nicely with some amazing performances, speeches and more. While the Upfront is happening next month, I hope for the love of Rao that CBS grants the Girl of Steel a well-deserved season two pick-up. We need more people like Kara Zor-El on our television screens and besides: her story is just beginning.
CBS has yet to announce an official Season 2 renewal for Supergirl, but chances are good — stay tuned right here at TV Overmind for all the latest on Supergirl!
[Photo: Cliff Lipson/CBS]
Summary
Kara Zor-El faces her biggest challenge as she has to deal with Indigo and Non in the powerful season one finale of CBS' Supergirl.