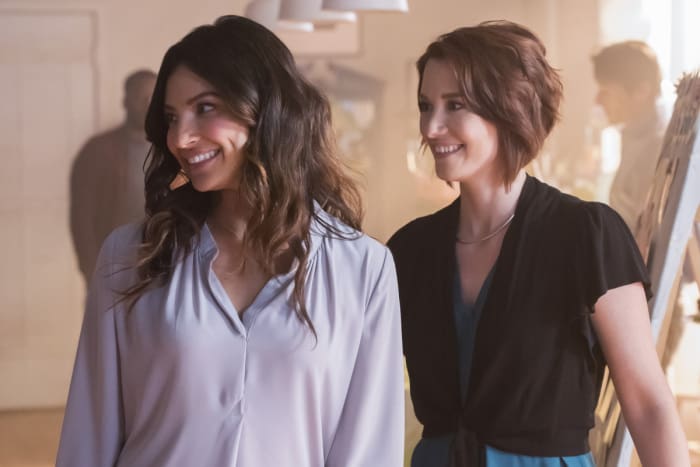 The complex relationships between parents and their children is well-trodden ground for Supergirl. Over the past two-plus seasons, we've seen Kara struggle to connect with both her biological and adoptive mothers, Alex go to great lengths to try to rescue her father, Jeremiah, and Lena do everything in her power to prevent herself from transforming into her mother, Lillian. However, this week's episode, "Far From the Tree," is different than those storylines in a couple of ways, the most notable one being that the hour centers on two Supergirl supporting characters: Maggie and J'onn.
Maggie and J'onn's respective conflicts could not be more different. Maggie reaches out to her estranged dad and invites him to her and Alex's wedding shower. Meanwhile, J'onn reunites with his father on Mars after M'gann informs him that another Green Martian still remains on the planet. But despite how unique the details of each story are, the two of them illustrate the same common message regarding the importance of reconciliation and how one must make peace with those from their past in order to find peace within themselves.
This idea is most fully explored with Maggie's reunion with her father, Oscar (terrifically played by 24 alum Carlos Bernard). While we previously knew that Oscar and Maggie's mother disapproved of her sexuality, "Far From the Tree" provides us with the clearer, sadder details, as Maggie recounts the story of her parents kicking her out to Elisa and Alex during dinner. Maggie reflects on the coldness of the winter day and the tense silence between her and her father as he drove her to her aunt's house, and she recalls the last words her father said to her before they parted ways: "You shamed me." It's a harsh, upsetting portrait of a broken family that never needed to be broken, a picture of the very real situations that still occur throughout America today thanks to encouraged prejudice and lack of understanding.
But despite the fact that Maggie hasn't spoken to her parents in over a decade, she still works up the courage to call her father in the middle of the night, when she believes Alex is asleep, and although it's a small, quiet scene, not as big or showy as later sequences in the episode, such as Maggie and Oscar's fight, it's easily the best work that Floriana Lima has ever done on Supergirl. The shakiness of her voice, the look in her eyes, the conflicted emotions that come across her face—we've never seen Maggie be this vulnerable before (which is why she doesn't want Alex to witness it), and Lima does a perfect job portraying this vulnerability in an honest, authentic way.
Matching Lima's abilities, though, is Carlos Bernard, who brings a real humanity to Oscar, despite the twisted views he has. While Lima's best scene is a quieter, more intimate one, Bernard's is louder and more bombastic, as Oscar's anger and worry erupt on Maggie when she confronts him after he sees her and Alex kiss and leaves the wedding shower. In this moment, Oscar can no longer bottle up his emotions, and he is completely honest with his daughter about where his prejudice comes from, as he explains that he worked so hard and sacrificed so much so that she would never have to face the pain and prejudice that he endured when he first came to America. However, with Maggie now being a lesbian, Oscar believes that she has now opened herself up to ridicule and harassment because, according to him, the only thing people hate more than Mexicans are homosexuals.
Ultimately, Maggie and her father go their separate ways, with Maggie handing him back the photo he carries of her in his wallet and telling him that she's no longer that scared, little girl anymore, the girl he left on the side of the road. By confronting her past and embracing the fear and pain she has tried to repress, Maggie allows herself to become a healthier, more complete person, someone who is ready for the future with the people she loves. But might that future be in question now that she and Alex disagree on having children? Given that Floriana Lima will be leaving Supergirl in just a couple of episodes, I'm guessing so.
While Maggie and Oscar can't find common ground by the end of this week's Supergirl, J'onn is able to regain the bond he previously had with his father, M'yrnn (played by Carl Lumbly). Although there's a much grander story being told in "Far From the Tree" about the resistance's fight against the White Martians, the most compelling pars of the events on Mars are the challenges that J'onn faces when he tries to communicate with his father and the joy he feels when he's finally able to get M'yrnn to remember him through a short but stunning flashback sequence that takes place inside of their home and features both of J'onn's daughters.
In the past on Supergirl, the exploration of J'onn's backstory has always led to incredibly emotional and deeply satisfying stories. But those always took place in flashbacks and memories; they could only be used to inform J'onn's character, not provide new conflicts for him. What's so exciting about him reconnecting with M'yrnn and bringing him back to earth with him and Kara is that it opens up a whole new world of possibilities for J'onn, as we get to see how he adjusts to having his father back in his life and the steps he will have to take in order to make sure that M'yrnn appropriately acclimates to the human world.
I could not be more excited for David Harewood, who is excellent yet again throughout "Far From the Tree," and for the character of J'onn J'onzz as a whole, as there is so much more to him than simply his powers. With Alex's impending nuptials and the return of his birth father, J'onn should have a lot of good material ahead in Supergirl Season 3, and I can't wait to see how the series dives into it. And who knows? With all that could be ahead for J'onn this season, maybe Supergirl will decide to let its supporting characters take the main stage again sometime soon. This week, it resulted in the best episode of Season 3 so far, and I don't see why it couldn't happen again.
Other thoughts:
I didn't mention it above, but the parent/child themes in this episode also extend to Kara joining J'onn on his trip to Mars. In this instance, it's a daughter looking out for her father, and Kara's support and commitment to J'onn are what make his "thank you" to her at the end of the episode, when he admits that he couldn't have done this without her, so satisfying.
Oscar's speech to Maggie outside of Alex's apartment, in which he mentions the border Wall that Trump is planning on building, is incorporation of politics done right. The line, along with Carlos Bernard's delivery, feels real and natural and not forced in any way, unlike political comments Supergirl has tried to make in the past.
J'onn's ship shape-shifts into a convertible, and he and Kara fly it to Mars. How awesome is that?
You know what's even more awesome, though? Kara distracting the White Martians by pulling up in the convertible and blasting "…Baby One More Time." I seriously can't get over how wonderful that moment was. With Kara struggling with so much pain so far this season, it's refreshing to see her having some fun.
M'yrnn and J'onn's reactions to Kara flying are priceless. "Can everyone on this planet do that?" "No. She's special."
What did everyone else think of this week's episode of Supergirl? Do you agree with me that it was the best episode of Season 3 yet? Comment below and let me know.
[Photo credit: Dean Buscher/The CW]
Supergirl Season 3 Episode 3 Review: "Far From The Tree"
Summary
Maggie and J'onn attempt to reconnect with their long-lost fathers in an emotional episode of Supergirl.