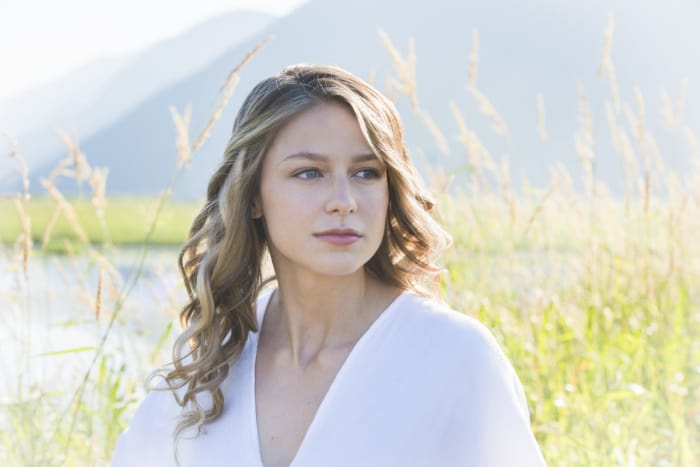 The second season of Supergirl primarily focused on Kara's desire to be both human and alien, a hero but also a normal, everyday person who is able to enjoy life and love. However, the events of last year's finale served as a powerful reminder to Kara that no matter how much she may want a "normal" life, the life of a superhero will never be truly, wholly normal. It's a life full of impossible choices and sacrifices, and during the Season 2 finale, Kara makes the hardest sacrifice she, or any other Kryptonian (as she mentions during tonight's episode, Clark would not have been able to do what she did), has ever had to make by letting Mon-El go to save the rest of the planet.
And while the Supergirl Season 3 premiere picks up months after that fateful choice, showing us that National City has been able to rebuild itself thanks to help from Lena Luthor and Morgan Edge (Heroes and Agents of SHIELD alum Adrian Pasdar), it also illustrates that Kara is nowhere near close to repairing her own self. In fact, she has gone in the complete opposite direction, deciding she needs to tear down the idea of Kara Danvers and solely focus on being Supergirl in an attempt to numb the pain that she feels.
Simply put, Kara's story is one of pain and grief, as she still has not allowed herself to fully come to terms with the loss of Mon-El. Despite Kara's protests about not being human, her journey throughout tonight's premiere is very much that, from the way she attempts to dull her sadness and anger to the moments where she lashes out at the people who matter most, such as Alex and James. It's an accelerated portrayal of the five stages of grief, and while not all of the material is perfect (some of the dialogue in particular is a bit clunky at times), Melissa Benoist sells the hell out of it all, depicting Kara's struggles in a wonderfully honest, authentic, and (yes) human way. She's raw and real in both the bigger scenes, such as Kara's screaming match with Alex, but also in the quieter, more intimate moments like when Kara asks J'onn about his family after she admits to dreaming about Mon-El and her mother (now played by Smallville's Erica Durance).
Ultimately, what makes "Girl of Steel" work so well as a premiere and what especially makes Kara's journey from detached individual to someone who wants to live more fully again is the fact that it's not just one person that helps her with this breakthrough: it's all the important people in her life. Sure, Mon-El's words, "Wake up," which Kara hears underwater as she fights to stop Bloodsport and Edge's men on the submarine after they disrupt the statue unveiling in National City, are what Kara repeats to herself before we see her start to make those big changes at the end of the episode. However, that vision of Mon-El serves as the pinnacle of the mountain of honesty and inspiration that Kara receives throughout the hour, hope and encouragement that she gets from everyone from Alex to James to Lena to J'onn. All of them, without really knowing it, work together to help bring back the person they love, the hero who has constantly saved them: not Supergirl but Kara Danvers. Here's hoping that Kara can remember just how much both parts of her matter throughout the rest of Season 3. I don't expect it will be easy for her to do on her own, but hey, that's what friends and family are for, right?
Other thoughts:
Welcome back to Supergirl reviews, everyone! I loved covering this show last season and can't wait to write about it again throughout Season 3. I'll be sharing reviewing duties with my good friend and fellow TVOvermind reviewer Blaise Hopkins, so be sure to be on the lookout for his thoughts on Episode 2 next week!
Let's take a moment to talk about how terrific Alex and Maggie's scenes together are in "Girl of Steel." I know there's a lot of justifiable uncertainty and sadness in the Supergirl fandom right now about this couple with Floriana Lima's departure coming up this season, but until that time comes, I'm going to savor every well-written, well-acted scene between these two characters. The wedding conversation (which, of course, Winn listens in on) is easily a highlight from tonight's premiere.
My biggest highlight from this whole episode, though? Alex asking J'onn to walk her down the aisle. Such superb work in that scene from Chyler Leigh and David Harewood. That moment and those tears have been earned over the past two seasons. Well done, Supergirl.
Morgan Edge's arrival brings James and Lena together in very interesting ways. Not only are the two of them involved in a meeting with Edge near the start of the episode, but by episode's end, Lena owns CatCo, which I hope means she'll be interacting with more characters than just Kara and her mother this season. That's mostly because I think Lena is such a rich, vibrant character, but it's also because I love Katie McGrath and kind of want her in every scene in every episode.
We meet Odette Annabelle's Reign in tonight's premiere, but she's not Reign yet. Instead, her name is Sam, and she has a daughter named Ruby, whom she saves using abilities she did not know she had. Then, of course, there's that nightmare that Sam has at the end, which indicates that if Reign is not already possessing her in some unconscious way, she will be soon.
Cat Grant makes an appearance via video in "Girl of Steel," as she is officially the press secretary for Lynda Carter's president. This development, of course, allows the Supergirl writers to get some way-too-obvious political jabs in at the current administration. It's not that I mind the show getting political; I just wish it were more clever about it.
Do we think Kara's dreams are only just dreams, or are the similarities between them and Sam's nightmare too much to ignore? I don't know. I'm betting on there being some type of connection with Reign arriving on Earth and Mon-El returning. Perhaps they're both trapped in the same type of Phantom Zone-esque place?
"Oh come on, Alex. Your unrelenting seriousness is one of your best qualities."
What did everyone else think about the Supergirl Season 3 premiere? Are you excited for this new season? What do you hope to see from it? Comment below and let me know.
[Photo credit: Dean Buscher/The CW]
Supergirl Season 3 Premiere Review: "Girl of Steel"
Summary
Kara's friends and family try to help remind her who she truly is in the solid Supergirl Season 3 premiere.