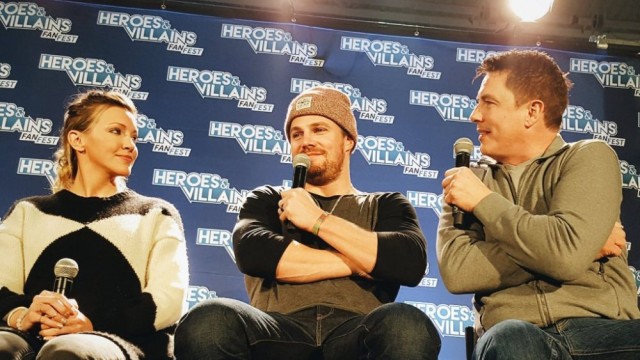 Snowmaggedon didn't ruin this convention! Despite Winter Storm Jonas blasting through the East Coast, Heroes and Villains FanFest went on this past Sunday. The stars of Arrow, The Flash, and Gotham turned out to give a great show for the fans, and even offer up a few spoilers!
The stars of Gotham were eager to talk about their feelings on the set. This being the season of villains, fans wanted to know who causes the most mayhem behind the scenes, an honor which went to Camren Bicondova (Selina Kyle, future Catwoman). Playing villains is no easy feat, but it is important to the legacy of Batman "to find our own heartbeat in the characters" says Sean Pertwee (Alfred).
Who causes the most mayhem on the #Gotham set? "@camrenbicondova is a firecracker!" laughs @ErinRRichards #HVFF pic.twitter.com/2iAMEPTip1

— Heroes & Villains (@heroesfanfest) January 24, 2016
If you're excited about Robbie Amell's return to The Flash, the star just dropped a MAJOR spoiler about his return. Amell let it slip that his Earth-2 alter ego, returning in episode 2×13, is going to kill a series regular character. Whether it's an Earth-1 or Earth-2 version of the character we will have to wait to see.
"I love the banter between Cisco & Wells. Those aren't scripted, they come up with them on set!" @teddysears #HVFF pic.twitter.com/ldkrszJ03E

— Heroes & Villains (@heroesfanfest) January 24, 2016
As for Arrow fans, consider this your warning that things are about to get even more serious. "In the Flashforward scene, Felicity is not wearing her engagement ring, (and it's) not an accident" says Stephen Amell. In regards to Felicity's paralysis, Amell says "They don't talk about it. It's just a reality now. I carry her a lot. We don't really acknowledge it because she's still a fully functioning, capable member of the team". While the fan favorite couple may not face trouble because of Felicity's recent diagnosis, there are two major events coming which could contribute to their breakup. The cast of Arrow confirms that both the lie surrounding Oliver's newfound son, and his Season 3 marriage to Nyssa al Ghul (recurring star Katrina Law), "will actually play a pivotal role coming up."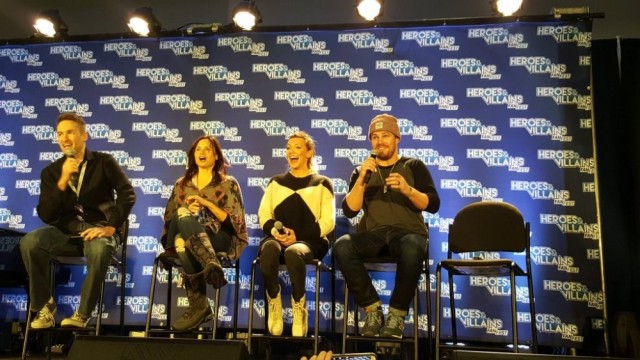 As for who's in the mysterious Arrow grave? No one, save for a select few, knows for sure; and if they do, they're not telling.
Tune in to see more of FOX's Gotham, and The CW's The Flash and Arrow this week.