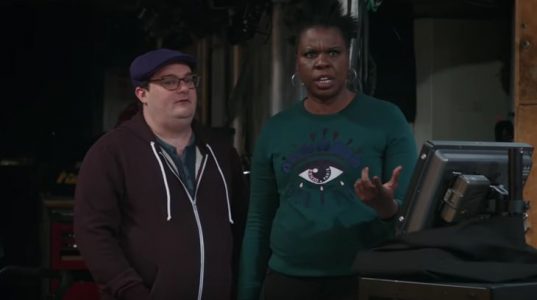 It kind of depends on how you feel about Leslie Jones when it comes to getting excited to see that she'll be making the comeback of Supermarket Sweep her eventual resting spot for a while. The popular show is coming back to ABC and it sounds as though a lot of people are already starting to get excited to see it return given that it was a popular program a while back. As for Jones, her talent is kind of hard to deny since she's been an acclaimed comedian for a while now and as many people would likely say she's great enough that she can bring a wealth of experience and talent to any project she works on. Jeremy Dick of TVWeb and many others are bound to laud Jones for her many accomplishments and it's right to do so but in terms of her routine and her personality it's definitely a situation where people are going to like her or dislike her based on their own biases. As one can imagine the ugliness that came during the Ghostbusters 2016 fiasco and its fallout when Ghostbusters 3 was announced is still out there waiting to be discussed, but for the purpose of this show it's been tabled thankfully since it doesn't have much bearing on it.
Instead it's easier to focus on how ABC is thinking of bringing back a number of game shows that people found appealing back in the day and how it's going to work eventually when those same people start to realize that there was a reason no one was really screaming to get them back. Seriously, a lot of the game shows such as Supermarket Sweep were fun and did pull in a lot of viewers back in their heyday and it's possible they can do the same thing now, but it's still kind of telling when a star like Jones has to be brought in, even though she was pushing for this, to host the show since otherwise it might go by the wayside. Often this means that the show was popular but not enough so to stand on its own two legs with a little to lesser-known host. Jones is at this time kind of a lightning rod for the show since she does have talent, she does have the skill to pull it off, but she's also an individual that's loud enough and opinionated enough to beat back the doubters and push the show forward with her strength of will along with her talent. Nellie Andreeva of Deadline has more to say on this matter regarding Jones. In other words she's likely going to make this happen even if there's a snag here or there, or make a serious attempt to make it happen one way or another.
It's still kind of a quandary why the old shows and game shows are making a comeback at this time but it's hard to deny that people want to see them either for nostalgic reasons or something else that's harder to define. It's not the first time that an older show has been brought back after all since this type of act tends to go in cycles as a show will run for a while, reach a conclusion, and then fade off for a bit until someone steps forward and announces that they want to bring it back. In this manner we've received all kinds of shows that have been making comebacks for years or at least have made the attempt and only lasted for a handful of episodes or a single season. Supermarket Sweep is one of the more simplistic shows that might confuse some people as to its popularity but in truth it's also been one of those that's hard to deny is catchy and tends to grab the attention of those flipping the channels. The game is pretty simple really since the main point entails a great deal of product knowledge and knowing the pricing of various items. Basically if you go to the grocery store a lot and have memorized just what things cost and have a good working knowledge of how a store prices its items then you're bound to do pretty well on the show. It's kind of amazing that no one has pointed out any type of labeling issue when it comes those that might do better and those that are utterly lost when it comes to shopping.
In any case, the show might actually do fairly well since it doesn't require a lot to watch and Jones is bound to dominate the show with her larger than life personality. Take that as you will honestly since as I mentioned her skills and talents are hard to deny but it's also easy to state that she's not the favorite actress of everyone even though there are a lot of people out there that think otherwise.