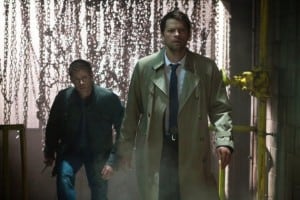 The cat is out of the bag, Supernatural fans: Castiel will be getting out of Purgatory in the upcoming November 14th episode.  Sure, it's been known for a little while, but it's finally happening next week.
The problem – at least for the Winchesters – is that Castiel has absolutely no knowledge of how he managed to break out of Purgatory when he reunites with Sam and Dean.  Did the new angels who will be introduced in the series (see photos) help break him out?  Did someone else?  The good news, however, is that he seems in full possession of his mental faculties and ready to fight the good fight.  During a recent visit to the Supernatural set in Vancouver*, Misha Collins said that Castiel will be more like the Castiel of old (before the craziness of season 7), which is something we've seen in Purgatory and that once he gets out, "he is a bit diminished but then seems to regain his powers and can do things that we didn't previously know that he could do [like in episode 8.08]".
We also learned that Castiel will definitely be joining the Winchesters as they search for a way to close the Gates of Hell forever.  Misha told us that "I think that [the tablet search is] sort of the pivotal object of the season, that's what everyone is after from, you know, every realm, and Cas is definitely involved in that process and caught in the crossfire."   But beyond the Winchesters and their (few) allies, we're going to see a very isolated Castiel who is unsure who he can trust.  When asked whether Castiel has any allies beyond Sam and Dean, Misha replied "No. There are people trying to align themselves with him but I don't think they're genuine allies."
Watch a preview below for the November 17th episode of Supernatural.  In addition, you can watch a portion of our interview with Misha, along with some footage relating to a previous article (including some Castiel and Sam discussion from Jared Padalecki) that wasn't previously posted.
Check out our most recent Supernatural slide-show: Most Memorable Standalone Episodes.
*Travel and accommodations provided by Warner Bros. Television
http://youtu.be/8nRr_vsGRys
[FLOWPLAYER=http://www.tvovermind.com/wp-content/uploads/2012/11/spn-pre807.jpg|http://www.tvovermind.com/wp-content/uploads/2012/11/spn-pre807-Clip1.flv,440,280]