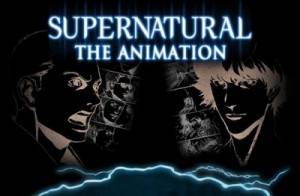 Supernatural fans are a devoted bunch, so when it was announced that an anime version of Supernatural would be released on DVD in Japan (starting February 23), other fans around the world were trying to figure out the Yen conversion rate and how to order from Amazon in Japan.
But have no fear, Region 1 DVD users! Because the Supernatural anime will be coming to the U.S. DVD market. There's no official release date yet, but we do know that the anime series will be dubbed in English and released in North America.
There's even better news: Jared Padalecki himself has signed on to do the English voiceovers for all 22 anime episodes. Fans might be disappointed to learn, however, that Jensen Ackles has only signed on to dub the final 2 episodes for the first season. We're not sure whether that will change or whether they'll secure another English speaking actor to voice Dean Winchester for the remaining episodes.
The anime episodes are meant to span seasons 1 and 2 of the regular show. While some characters we know will appear (including, obviously, Sam and Dean, as well as John, Bobby and Jessica) fans should expect to see new characters and some other original storylines. Although it's likely the anime will cover the main points of the show, including the Yellow-Eyed Demon, the death of Jessica and likely the death of John. While the anime versions of Sam and Dean were approved by Jared and Jensen, some of the other characters may be redesigned.
When a release date for the U.S. DVD is announced, we'll be sure to let you know. In the meantime, take a peak at the anime trailer below. With an animated version of the show, the sky's the limit!
clarissa @ tvovermind.com
twitter.com/clarissa373
twitter.com/tvovermind